Submitted by Administrator on Thu, 23/01/2014 - 11:27
---
The One Show on BBC1 on Friday, 17 July was devoted to the Apollo moon missions and British technology that helped make them possible.
One piece of that technology was the Bacon fuel cell, a highly efficient, simple, practical and reliable way of producing the electrical power needed by the Apollo spacecraft. It was developed in this department by F.T. (Tom) Bacon in the 1950s and produces electrical power directly from the electrochemical reaction between hydrogen and oxygen. At that time the proposed Apollo moon probe was designed with hydrogen and oxygen on board for propulsion and life support. The fuel cell was an ideal source of on-board electrical power with the additional advantage that the exhaust water could be used both for drinking by the crew and humidification of the capsule's atmosphere.
An original fuel cell, pictured below, is now in the Whipple Museum, Cambridge University.
Emeritus Professor John Davidson remembers Tom Bacon and an interview with him was included in the program. He said, "When he first met you he would ask you what your scientific and engineering interests were. If it had any bearing on the fuel cell he was deeply interested, if it had no bearing, he would switch off immediately."
The success of the Apollo mission is history and on a subsequent visit made by Bacon to the United States, President Richard Nixon put his arm around Tom's shoulders and said, "Tom, without you, we wouldn't have gotten to the moon".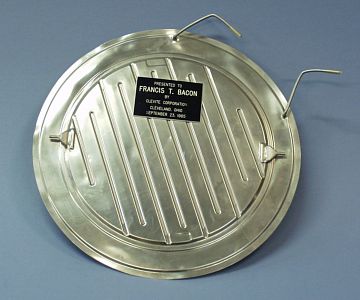 More about the fuel cell
Moon landing anniversary: a giant leap for Britain, too - Telegraph article
Professor John Davidson retired in 1993 but continues to be an active member of the department.