Submitted by Vanessa S. Blake on Mon, 26/05/2014 - 14:47
---
The Topping Out ceremony for the new building for the Department of Chemical Engineering and Biotechnology took place at West Cambridge on a rainy Tuesday, 27 May 2014.
Guest of Honour was the University Vice-Chancellor, Professor Sir Leszek Borysiewicz and the benefactors to the CEB New Building Fund were represented by Dr Andy York from Johnson Matthey and Mrs Catherine Paul (Dr Robin Paul's widow). Former Heads of Department Professor Lynn Gladden (Pro-Vice-Chancellor for Research), Professor Howard Chase and Professor John Davidson were present. Friends of the department and alumni were also in attendance, including Peter Davidson and Sir David Harrison.
The hosts were Bob Ensch, Area Director of Morgan Sindall plc, Angus Stephen, Director of Operations at the University of Cambridge Estate Management and Professor Nigel Slater, Head of Department.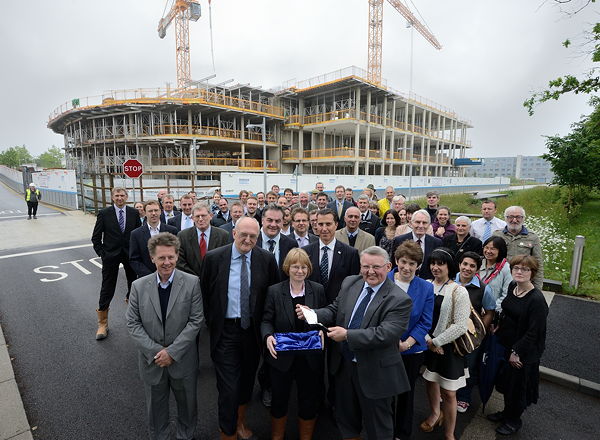 Guests gathered in the foyer of the adjacent University Sports Centre from midday, with speeches at 12.30 from the three hosts.
Professor Slater said; "Since last year the Department has followed the building progress through the CCTV-internet link and our excitement has grown steadily as it has sprouted ever upwards.  We appreciate that the diverse research and teaching activities of the Department, and the specialised facilities that these require, make the building extremely complex yet we have been amazed by the pace of progress.  Our excitement is heightened by today's topping out ceremony, and we are grateful for what has been achieved on the project to date."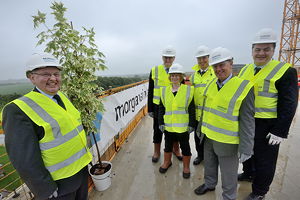 A small 'roof party' led by Charlie Norris (Operations Director NHC at Morgan Sindall) included Prof Slater, Professor Sir Leszek Borysiewicz and Professor Lynn Gladden, as well as Bob Ensch and Angus Stephen, who in their full PPE attire were escorted into the construction site. They then ascended to the roof area for the topping out ceremony, before returning to the Sports Centre for a finger buffet.
The new building construction is on target and expected to be finalised by June 2015.
See also:
Topping out for West Cambridge building
Cambridge labs reach major construction milestone