Submitted by Administrator on Wed, 29/01/2014 - 09:25
---
Marijke Fagan and Amanda Talhat were awarded the prizes for the best PhD posters at the recent Trinity Engineers Association meeting. Mariana Domingos and Manny Kemp also presented their work. The event was a mini conference where Trinity undergraduates and graduates from all engineering disciplines presented posters on their work to Trinity engineering alumni.  The meeting took place on Thursday 26 April 2012 and was followed by a drinks reception and dinner at Trinity. Prof John Davidson attended and his son Peter Davidson was one of the organisers and judges.
The topics of the posters ranged from innovative fire detectors to chocolate, non-linear instabilities and radioactive plumes. The presenters had been given the somewhat cryptic guidance that "The goal of the poster session is to generate some fun discussions between students, fellows, and alumni, and with luck give you something that you can use elsewhere."  They certainly rose to the challenge and the judges had a tough task deciding on the most successful presentations. 
Marijke's poster title was "Fundamental Studies of Heap Bioleaching Hydrology using Magnetic Resonance Imaging".  In recent decades heap bioleaching has become a widely applied method for the recovery of valuable metals such as copper from low grade ores. Heaps are unsaturated systems of often highly inhomogeneous nature which makes the solution flow through them complex and spatially variable, leading to issues such as flooding and preferential flow which ultimately effects the metal recovery. The objective of this work is to investigate the application of Magnetic Resonance Imaging (MRI) to these systems and so allow for the liquid phase inside of a representative leaching experiment to be imaged in a non-invasive manner. MRI would not typically be thought of as a suitable technology for use with such samples because the ferro- and paramagnetic species in the ore and leach solution have the potential to cause significant magnetic susceptibility distortions in images acquired with conventional methods. The initial focus of this study is therefore to demonstrate that these distortions can be minimised through the use of specialist pure phase-encode MRI pulse sequences. The MRI images that are subsequently obtained can be used to investigate issues such as preferential flow, irrigation methods, heap structure and solution flow evolution as a column heap leach progresses.
Amanda presented her work on the development of a droplet freezing apparatus for studying polymorphic transitions in cocoa butter.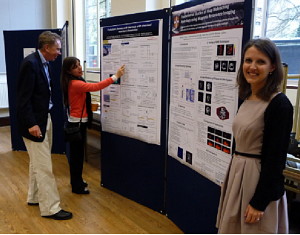 The Trinity Engineers Association brings together alumni, students and fellows on a regular basis and is open to any Trinity member who has read engineering or currently works or has worked in engineering. As part of its activities, TEA is establishing a Mentorship program to foster closer ties between Alumni and Students and bring the benefits of experience in real world engineering to the next generation of Trinity engineers. While informal, the program will hopefully become a key part of the broader education of engineering students at Cambridge.
Thanks are due to numerous people, especially Orian Welling for organizing the Poster session, TEA chair Peter Davidson for kindly donating the prizes, Hugh Hunt for support of the poster session and Oli Perkins and Tony Bannard-Smith in the Alumni Office for taking care of the meeting invitations and logistics.