Submitted by Anonymous on Fri, 11/07/2014 - 14:19
---
Undergraduate prizes
We are please to announce that University prizes have been awarded to the following undergraduate students:
Meichen Lu, from St Catharine's College has won the T.R.C. Fox prize.  The prize is awarded annually by the Examiners for Part IIB of the Chemical Engineering Tripos (fourth or final year) to the candidate who has shown the greatest distinction in the examination for that Part of the Tripos.
Meichen said that she is really delighted about the award and actually quite surprised. She will be returning to Cambridge to study for a PhD next year. She said, "What's more important than the prize is that I really enjoyed the final year with the mixture of research project and all the interesting modules. I really appreciate the efforts made by the department and I have been so lucky to have studied here."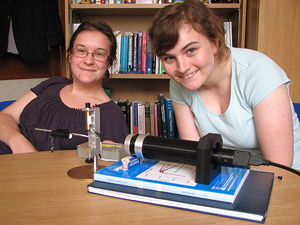 Catherine Collett, from Sidney Sussex College has won the North Carolina State University prize.  This Prize is also awarded annually to a candidate who has shown distinction in the performance of original project work in the form of a theoretical or experimental investigation. Cathy did her project with Alia Ardron, working on building an extensional rheometer for measurements on pitcher plant fluids in the field.. literally ... in Borneo.
Daan van Kleef, from Christ's College has won the ExxonMobil Chemical Engineering prize for distinction in Part IIA (third year) examinations.
There are no upcoming talks currently scheduled in this series.