While the academic environment at the University of Cambridge provides an invaluable and incomparable learning experience to our students, we also ensure that the training we provide is not disconnected from industry. Our students have plenty of opportunities to benefit from input from industry experts, to understand the biotech industry landscape, and to boost their professional networks.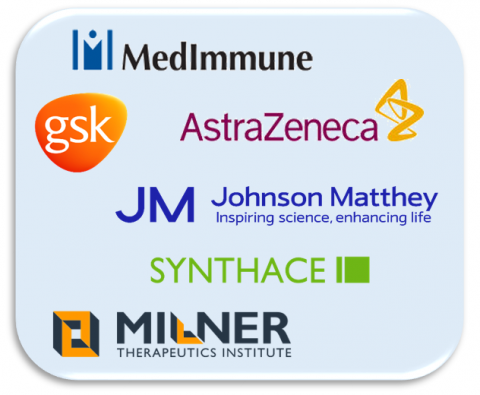 We are proud to be supported by a diverse group of industry champions as well the Milner Therapeutics Institute, whose goal is to coordinate companies and academic, pharmaceutical and biotechnology partners in a global therapeutic alliance.
The participation of the industry champions in the programme is manifold. They are part of our Strategic Committee, playing a role in the direction of the programme. Their input is useful to ensure that the training we provide not only is academically and scientifically sound, but is also aligned with workforce needs, current practices and developments in industry. Our industry champions also contribute to teaching by delivering some lectures and being involved in the team research project. In the team research project, the students work on an industrially relevant problem and are mentored by one of our industry partners.
In addition to the participation of our industry champions, throughout the programme, we welcome invited scientists and executives from industry who are happy to share their experience at the forefront of their fields.
The biotech companies in the Greater London-Cambridge-East of England corridor welcome Cambridge graduates and tend to be extremely supportive of student training at the University. Being based at this major biosciences hub, our students have access to a wide range of top academic conferences and networking events organised through the University as well as external entities, such as One Nucleus, an award winning not-for-profit organisation that supports institutions, companies and individuals undertaking activity in life sciences and healthcare areas.