The programme's key learning areas are explored by going through six complementary elements with  taught, practical and research formats: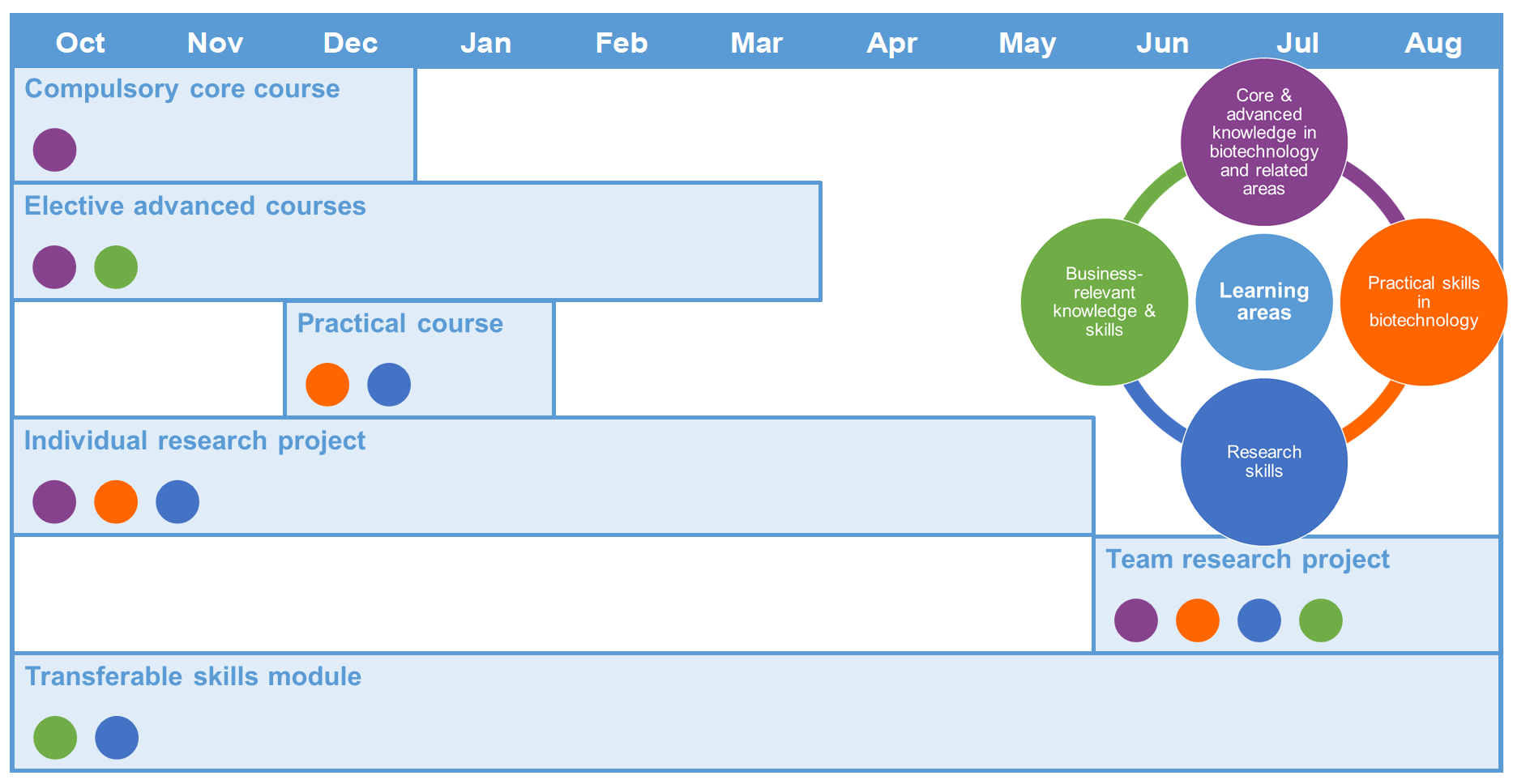 1. Compulsory core course. From October to December, the students take a compulsory taught course on principles of biotechnology. This is a broad-spectrum course covering a range of topics from cell biology, synthetic biology and bioanalytical techniques to cancer biology and bioethics.  The aim of this course is to equip students with core knowledge in biotechnology so that they are then able to apply their analytical skillset from their previous degree (e.g. in engineering, physics, chemistry, maths or computer sciences) in biology-related areas.
2. Elective advanced courses. The programme offers the students the possibility of tailoring their studies to their educational needs and career goals. During Michaelmas and Lent terms, they attend six courses selected from a list of subjects taught at CEB as well as at other departments across the University. These courses allow the students to acquire advanced knowledge and skills in specific subjects close to their interests. Given the emphasis of the programme on an interdisciplinary approach to biotechnology, many of the elective courses on offer explore topics that are transversal to biological, engineering, physical and computer sciences, which lies at the heart of the MPhil in Biotechnology at the University of Cambridge.  Some of the elective courses allow the students to complement their training with business-relevant knowledge and skills. Students will normally be able to select their advanced courses from the list below. Please note that the courses on offer may change slightly from year to year, being subject to student numbers and academic staff availability, but every attempt will be made to allocate students to their preferred choices.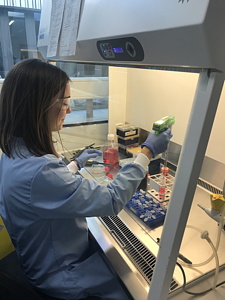 3. Practical course. From late November until late January, the students take a practical course on fundamental and advanced biotechnology techniques. Over approximately 50 hours, the students will develop their practical and research skills through both taught and hands-on elements. The course includes practical demonstration sessions, computer-based cloning experiments, and wet-laboratory experiments. Examples of techniques covered in the course include state-of-the-art cloning, mammalian cell transfection with fluorescent-based sensors, CRISPR-Cas9, and optical microscopy.
4. Individual research project. The MPhil in Biotechnology is a taught programme with a strong research component, which includes an individual research project and a team research project (details below). Straight from the beginning till June, the students undertake their individual research projects within CEB or participating departments depending on their specific interests. Some projects may also involve industrial collaborations. The projects are supervised by University staff members. The students plan and execute their own work and submit their results in the form of a dissertation. Through the individual research project, the students extend their specialised knowledge by exploring a topic of their choice, develop practical skills in wet-laboratory and/or computer-based environments, and acquire a range of research and transferable skills that will set them up for independent research.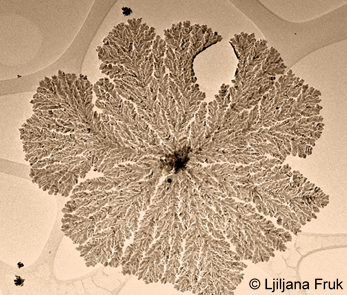 5. Team research project. The team research project is a distinctive feature of this programme. Throughout the Summer, after completing the individual research element, the students carry out a team research project that will have been defined and organised in collaboration with one of our industrial partners. In this project, the entire class tackles together a research challenge, having the chance to further develop knowledge and practical skills in biotechnology as well as research and business-relevant skills. This module is a key element in the training of business-relevant knowledge as the students work on an industrially motivated problem and interact closely with mentors from industry. The students rely on leadership competences, effective project management, multilingualism to understand a range of different stakeholders, and commercial awareness to successfully complete the exercise. The team research project culminates in the delivery of a professional report. Both the individual and the team research projects involve oral presentation of the results in the form of a mini-symposium to an audience of academics and industrial representatives.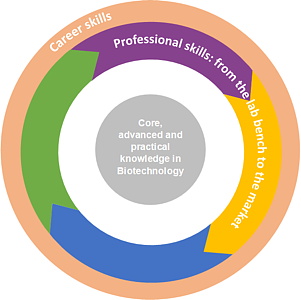 6. Transferable skills module. Despite its strong scientific core, the programme places significant emphasis on the training of transferable skills relevant to academia and industry. The development of transferable skills is transversal to various elements of the programme and further promoted by a dedicated module running throughout the year. In this compulsory module, the students participate in a series of activities, including, for example, workshops on scientific writing, mini-symposia, journal clubs, and team building events.
Teaching and assessment
In line with the programme structure, teaching is delivered through a combination of formal lectures, practical classes, supervised research in one-to-one and group settings, and a range of other means supporting the development of practical and transferable skills (e.g. training workshops, journal clubs, formal and informal presentations).    
The programme's taught elements are assessed through a combination of some or all of the following:  individual or group coursework, class participation, formal written examination, and individual or group presentations. The programme's research component is examined by appraisal of a dissertation and a professional report. In order to be awarded the MPhil degree, the students need to pass satisfactorily both the taught and research components of the programme.