MBE students are a very diverse group, both educationally and culturally. However all come to Cambridge with common purpose and students are soon immersed in the activities offered by the programme and within the University.
The three terms of study is a very intense experience, with many new challenges to meet and goals to achieve. Students who have studied on the programme offer a personal insight into their background and their experiences whilst at Cambridge and the benefits the programme delivered:
Harry Aubrey, 2016-17, UK
Why I chose Cambridge 
I visited Cambridge before starting my study at the university, and it is hard not to fall in love with the city. History is everywhere in Cambridge and so much of that history is science related – Isaac Newton, the splitting of the atom, Darwin and even the pub where Watson and Crick announced they had discovered the structure of DNA. Today, the university is the heart of a community of scientific starts-ups, particularly in biotechnology. I wanted to be part of such a community and have the chance to learn from it.  
Why the MBE is right for me
When I discovered the MBE, it was my dream course. I am a scientist by background and although I enjoy the study of it, I could not imagine myself pursuing a career in the lab. The MBE has opened my eyes up to a huge number of career paths for me in, outside of the lab, and provided me with the skills, the knowledge and the network to pursue these paths. Not only are the lectures and assignments excellent, but the caliber and diversity of fellow students on the course mean you are continually learning from each other and leave with a fantastic community of friends.
Fields of interest
Digital healthcare, synthetic biology and regenerative medicine.
Education before Cambridge
BSc. Joint Honours in Biology with Business Management (First Class), Imperial College London
Experience before Cambridge
Two internships in Biotech start-ups, a summer research project at York University and experience in sales in the Financial Services Sector.
Activities at Cambridge
Finalist in the Cambridge University Entrepreneurship Business Plan competition.
Languages
English, German
Michael Whitehead, 2016-2017, UK
Why I chose Cambridge
I chose Cambridge for its world-leading research and education programmes.
I was keen to be part of a group of highly motivated and intelligent individuals whom I can learn from and form strong relationships with for the future.  Academically, I came here to learn from some of the sharpest scientific and commercial thinkers in the biotechnology industry.
Why the MBE is right for me
The MBE provides the ideal platform from which to start a career in the biotechnology sector.  It achieves this through the variety of course components on offer that enable participants to gain knowledge relevant to the industry, develop skills pertinent to their careers and build networks with scientists and entrepreneurs alike, such that they are capable of effectively translating scientific research upon their graduation.
The MBE creates a stimulating learning environment both in terms of the challenging course material and the calibre of individuals participating on the course.
Fields of Study
Regenerative Medicine and Molecular Genetics, with a keen interest in Entrepreneurship
Education before Cambridge
BSc in Cellular and Molecular Medicine at the University of Bristol.
Awarded first class honours
Experience before Cambridge
Internship at Redleaf International Women's Hospital in Shanghai, China.
Activities at Cambridge
Vice President of Sponsorship at Cambridge University Technology and Enterprise Club (pending), PhoCUS (Cambridge University Photography Society).
Elly Setiawaty, 2015-2016, Indonesia
Why I chose Cambridge
The quality of education in the University of Cambridge is unquestionably one of the best in the world. The strength does not lie in the study materials and teaching process alone. Cambridge nurtures innovation and entrepreneurship. Situated in the golden triangle, surrounded by bio-hubs and world-known companies, students are exposed to various kinds of novel technology and the applications in the industry. Being a graduate student in Cambridge allowed me to share ideas, connect with people that enable me to bring the ideas forward. 
Why the MBE is right for me
The MBE programme is a unique and intensive programme combining science and business. It provides essential knowledge and understanding of the dynamics of pharma/biotech business, healthcare systems, medical devices, and plant and industrial biotechnology. It also specifically equips students on how to start a new business and secure funding in the life science sector. Furthermore, the class is structured in such a way to promote teamwork among its students from diverse nationalities and backgrounds. The experience of learning from each other and working together under the tight schedule is very valuable. The student-led trip to the US helped us to expand our network and understand the difference between the model in the US and the UK.  The qualification attained after finishing the course enables me to pursue my professional career and start my own business.
Fields of interest
Molecular Biology
Genetic Engineering and Protein expression
Bioprocess engineering
Vaccine
Biosimilars
Life Science Startups
Education before Cambridge
BSc in Biotechnology at Atma Jaya Catholic University of Indonesia, Jakarta
Intermediate Chinese and Advanced Business Chinese course at Jinan University, Guangzhou
Experience before Cambridge
Research Scientist in PT Charoen Pokphand
Research Scientist in PT Medion
Activities at Cambridge
GAP Summit, CUE Business Plan Competition, YEOTY Workshops, OC&C Case Competition, Cambridge Indonesian Society (PPI Cambridge)
Languages
English, Mandarin, Bahasa Indonesia, Hokkianese
Michael Anderson Burley, 2013-2014, Malaysia
Cambridge and the MBE
Cambridge has a slightly surrealist tone as a quaint medieval town hosting pre-eminent scientific research. Its colleges bequeath unique legacies and in parallel foster inter-disciplinary communities. These, by consequence, are invested with a sense of purpose and responsibility to author real impacts on society at large.
The MBE builds on this phenomenon by bringing together a diversity of would-be-players in the bioscience ecosystem and running them through boot camp. Although the lectures by senior industry professionals were a novelty, for me personally the main highlight was the dozen iterations of project work with different mixes of classmates. This not only built friendships and crucial skills, it also significantly contributed to the holistic perspective that is the major asset derived from the MBE course. 
Fields of interest
Healthcare and Industrial Biotechnology

Business development and Entrepreneurship

Innovation ecosystems and Technology policy
Education before Cambridge
Biotechnology BSc from Imperial college London, with a focus on: Bioreactor and bioprocess technology, Mechanisms of gene expression, and Cellular and neural signalling. 
Experience before Cambridge
Business Development Intern at US Department of Energy research institute for bioenergy, USA

Analyst at a strategy consultancy for Pharma and Biotech, UK

Student Researcher at the Imperial Centre for Translational and Experimental Medicine, UK
Personal Assistant in financial advisory services, Malaysia
Volunteer divemaster at a marine conservation NGO, Madagascar
Activities at Cambridge
CUE competition, OneStart competition, Enterprise Tuesday, Ignite facilitator, extracurricular business development, trying to allocate personal time for the gym (inordinately difficult)
Languages
English (fluent), French (fluent), Spanish (amusing party trick).
Jaime Domingues, 2013-2014, South Africa
Why I chose Cambridge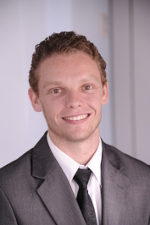 Mention of the University of Cambridge holds a significant amount of weight when speaking about biotechnology, entrepreneurship and sound academic work. My passion and curiosity for both pursuing innovative technological enterprises and absorbing knowledge about all things biotechnological align well with the culture upheld by the university. The college system allows for the opportunity to meet peers that do have the ability to change your life. Each department attracts the most prestigious lecturers, students and guests and enables learners to acquire knowledge and networks that will set them for life in any career they choose to pursue. The ability to study and learn at one of the world leading centers for tertiary education with proven success in both the academic and commercial fields is an opportunity I could not pass up and one I recommend for anyone considering it.
Why the MBE Is right for me.
The Masters in Bioscience Enterprise is the perfect programme for integrating entrepreneurial expertise and knowledge with biotechnological innovation. It covers aspects relating to the pharmaceutical and biotechnology industries in depth. It gives unique insight into a wide range of aspects from the drug discovery process to the regulatory systems involved with developing pharmaceutical products. It has allowed me to creatively and critically explore and develop my commercial and entrepreneurial knowledge and ideas as well as be exposed to a wide breadth of biotechnological developments from agrobiotechnology to medical devices.
Having a background in molecular genetics and a desire for business development the MBE programme has allowed me both to develop my interpersonal skills with a keen focus on group activities and useful insight into the biotech industry
Fields of Study
Molecular Genetics
Plant Virology
Viral Nanoparticle developement
Education before Cambridge
BSc (Hons) Genetics at the University of Stellenbosch, South Africa
With development in nanotechnology a particular interest, I focussed on the development of Viral nanoparticles using plant viruses in a research project during my degree at Stellenbosch University. 
Experience before Cambridge
Vitis Laboratory, Department of Genetics, Stellenbosch University, South Africa
Researcher into plant expression systems utilising GFP expression constructs
QCarHire Car Rental, South Africa
Website redevelopment and online marketing manager
Activities at Cambridge
Queens' College MCR Football, CUTEC, CUE, CUSciSoc, CUSCG NIH Breast Cancer startup Challenge Business Plan Competition
Languages
English, Afrikaans, Basic Portuguese
Alberto Libanori,  2011-2012, Italy
Why I chose Cambridge
Cambridge marries tradition with innovation, linking the best of the past and aiming at setting the grounds for the future.
Aside its academic excellence, (we're number 1!) the energy is palpable both in the departments and when talking to students across all faculties- you can easily have a 8-hour lecture day on the Challenges of the Pharmaceutical industry and still be so stimulated to venture to a 9pm guest lecture on Dark Matter physics. All of this nicely topped off by a late dinner with post doc archeologists who entice you on the smuggling trade of historical artefacts through Switzerland.
Why the MBE is right for me?
Understanding the pharmaceutical industry in its totality is a task that requires multifaceted insight on many fronts. Only those with first-hand experience can effectively provide this knowledge and contextualise it for students to understand. When your daily lecturers include Nobel Prize winners, former directors of the FDA, CEOs and venture capitalists with 20 years in the field, you are sure to have the best of the best teaching you. Through the MBE I'm hoping to gain a thorough understanding of the Biotech and Healthcare field, both theoretically, and via our internship opportunity within the industry.
Fields of Study
Virology and Molecular biology
Healthcare for the elderly
International trade and cross-cultural business dealings
Education before Cambridge
BSc in Biomolecular Sciences at St Andrews University, UK
Intensive Chinese and Business Diploma, Tsinghua University, Beijing
Experience before Cambridge
China-Italy Chamber of Commerce,
Scottish Structural Proteomics Facility
L'Oréal
UMIST Analytical Chemistry Research Lab
Languages
Italian, English, French, Mandarin Chinese, Swedish
Magdalini Papadaki, 2011-2012, Greece
Why I chose Cambridge
Amusingly enough, the question I often take is followed by "over Oxford". But in reality, by being open to encounters and interactions with people from all walks of life, one frequently comes to realize that post-graduate education can be merely a luxury rather than a necessity. Even so, the opportunity to study in any one of the great schools of this world, let alone the University of Cambridge, ranking first according to the 2010-2011 ratings, offers an incomparable exposure to forward and innovative thinking, creativity, excellence, as well as an abundance of motions, organizations and societies. The Cambridge experience is much more than high calibre studies; it is a once in a lifetime chance to make a difference into the world.
Why the MBE is right for me?
From my years as an undergraduate student, I have always been motivated by things that can have an impact for society and this is exactly what has inspired me to move away from the academic bench, or the expensive company car and into scientist-led entrepreneurship. With more than 10 years in a multidisciplinary scientific stride, both in academic research and the pharmaceutical industry, ranging from plant biotechnology to personalized pharmacology and from human gene therapy to drug pricing policies and regulatory affairs, I have developed a fast eye for new prospects in the rapidly evolving biomedical field. It is my firm belief that nowadays, more than ever before, the enterprise of innovation in bioscience is an imperative necessity for the delivery of better therapies to patients. And given that the level of risk and uncertainty in this unique entrepreneurial sector is directly correlated with the quality of science, it is the scientists who have the will and skills to work at the interface of science and business that can make a difference. Down these lines, the quality of studies in the MBE course, the calibre of the admitted candidates and the strength of the acquired network, provide a first class opportunity to combine my scientific and professional experience with the necessary entrepreneurial skills, towards a most productive path at the interface of bioscience and business.
Fields of Study
Agricultural Biotechnology and Molecular biology
Pharmacology and Molecular Pharmacology
Gene and Cell Therapy
Virology and Viral vector development
RNA interference
Drug Regulatory
Activities at Cambridge
MBE student's representative at the Dept. of Chemical Engineering and Biotechnology
Public Relations manager at the Cambridge University Education without Borders Society (CUEWB)
Education before Cambridge
PhD, Gene Therapy and Stem Cells, Biomedical Research Foundation of the Academy of Athens-BRFAA, GREECE.
MSc Pharmacology- Faculty of Medicine, Dept. of Pharmacology,
University of Oxford, UK.
BioScience Enterprise and Business skills, Said Business School, University of Oxford, 8-week course.
BSc/MSc Biotechnology, Dept. of Agricultural Biotechnology, Agricultural University of Athens, GREECE.
Experience before Cambridge
Novartis (Hellas): Drug Regulatory Affairs Manager and Medical Advisor for Consumer Health Division. Exclusive responsibility for Greece and supervision of Cyprus.
Post-doc researcher, BRFAA- Athens, Division of Genetics and Gene Therapy.
Research associate: Lab of Pharmacology–Pharmacotechnology, BRFAA, in collaboration with the Cancer Research Center, U. of Oklahoma, USA).
MSc Research:MRC Functional Genomics Unit, Dept. of Human Anatomy, University of Oxford in collaboration with Animal Health Division, Pfizer, UK.
Research associate: Lab of Molecular Biology, Agricultural University of Athens.
Music Industry- Entertainment: VIP Manager/ Foreign Border Organizer in Greece for Live Nation and AEG touring artists.
Teaching experience: Lab sessions
National University of Athens, Dept of Biochemistry and Molecular Biology and Dept. of Pharmacy: Biochemistry I & II, Clinical Chemistry and Toxicology
University of Oxford, Faculty of Medicine: Pharmacology
Agricultural University of Athens: Dept. of Agricultural Biotechnology and Dept. of Food Science and Technology: Molecular Biology I & II
Languages
Greek (native), English (excellent), Italian (working level)
Victor Dillard,  2011-2012, France
Why I chose Cambridge
Cambridge is the ideal place to do a masters course, particularly in bioscience enterprise. The choice for me was simple: right in the middle of the most exciting bio-cluster in Europe, Cambridge provides endless opportunities to network, meet new people and share and discover new ideas. Whether this takes place outside campus life in a local pub, inside the college community in gowns at a formal dinner or through the myriad of lectures available to attend (on any topic imaginable), Cambridge is the perfect place to meet and exchange with enthusiastic, bright and diverse people.
Why the MBE is right for me?
The MBE covers biotechnology in all its glory, from drug discovery and development, to medical devices as well as agro-biotechnology. This is done in-depth both in science and business. The MBE gives you perspectives all the way from large pharma to small biotech start-up, as well as regulators and academia. As a result, the course offers the set of skills needed to be versatile, adaptable and knowledgeable in the industry.
From a chemical engineering background, with a focus in pharmaceutical manufacturing and a desire to enter the biotech sector in its broadest sense, the MBE is the ideal springboard to launch my career in the biotech industry.
Fields of Study
Chemical Engineering
Fine chemical processing
Pharmaceutical and biopharmaceutical manufacturing
Education before Cambridge
Imperial College London (MEng) 2011
Experience before Cambridge
Procter & Gamble (UK)
Air Liquide (USA)
L'Oreal (France)
Micro-Finance Institution (Argentina)
Activities at Cambridge
Trinity Hall Rowing Club
Trinity Hall Rugby Club
Various entrepreneurs' clubs (CUE, CUTEC, Beyond Profit, Enterprise Tuesday)
Languages
French, English, Spanish, German
Stella Wooder 2011-2012
Why I chose Cambridge
I was seeking a course which offered the opportunity to update my technical skills and immerse myself in a completely new science area but one which maintained tight links with the business world. Cambridge fitted the bill; I found all those ingredients (and more!) on the Master's in Bioscience Enterprise.
Why the MBE is right for me?
I was seeking a course which would maintain the momentum and energy of the commercial environment I had come from and a 9-month course which mixed components of business, science and technology fitted those requirements. The MBE's "mosaic" of drug discovery and development, medical devices innovation and agro-biotechnology, mixed with regulatory matters, law, biotechnology finance and funding, intellectual property and healthcare economics provides a unique perspective. Hearing at first-hand the experiences of academics, entrepreneurs, CEO's, regulators, lawyers associated with the biotechnology, pharmaceutical, medical devices and other sectors brings the detail of the underlying science and technology to life. The diverse backgrounds and geographies of my fellow classmates has created an unforgettable learning environment.
Fields of Study
Mathematical and optical physics
Algorithm development
Enterprise architecture, management information systems & database development
Education before Cambridge
The University of Aston in Birmingham, BSc(Hons)
Imperial College London (Ph.D.)
Experience before Cambridge
Sagentia
Logica
EDS
Chase Insurance
A number of early stage and start-up companies
Languages
English, Greek