Outreach Programme
Masterclass Advanced Electrochemical Techniques
Undergraduate Teaching Notes
Electrochemistry Fundamentals
In this section a general introduction to electrochemical measurements is covered. The material provides a general overview of electrolysis along with descriptions of the various forms of mass transport that may control an electrochemical reaction. Later sections introduce the ideas behind voltammetry and illustrate by animation how the concentrationof reagents changes during electrolysis. In the final sections detailed studies on topics such as fuels cells are outlined.
Electrochemical Impedance Spectroscopy
In this section we introduce the essential information required to analyse the response of an electrical circuit to the imposition of a steady or sinusoidally varying voltage. In the early parts we review the basic electrical components (resistors, capacitors and inductors) and define what is meant by current, voltage, capacitance, inductance and resistance. In the later sections we illustrate a method for breaking down complex circuits and predicting the impedance response.
Introduction to Electrical Circuits
Electrical Circuit Response to a Fixed Voltage
Electrical Circuit Response to an applied Sinusoidal Voltage
Teaching Notes - usage of text and images
Text and images within this section may be used for academic, non-commercial and non-profit making purposes and should be credited to
Dr A C Fisher, Department of Chemical Engineering and Biotechnology, University of Cambridge.
To cite content from these pages, please use the following form:
Fisher, A. C. "Electrochemistry Teaching Notes" in the website of the Department of Chemical Engineering and Biotechnology, University of Cambridge, 2010. https://www.ceb.cam.ac.uk/research/groups/rg-eme/teaching-notes 
CamRareEd 
A disease or disorder, is defined in the EU as rare when it affects fewer than 1:2000 of the population. Although any individual condition affects a small proportion of the population, 1 in 20 people will live or be linked to someone with a rare disease due to over 7000 different conditions that have already been diagnosed. Despite major developments in medical treatments and screening technologies rare diseases are still not being consistently diagnosed, treated and supported effectively.
These pages aim to provide links to educational support, stories around the world about children with rare diseases and highlight events that are running on rare diseases.
On 28th February communities around the world come together to celebrate Rare Diseases Day.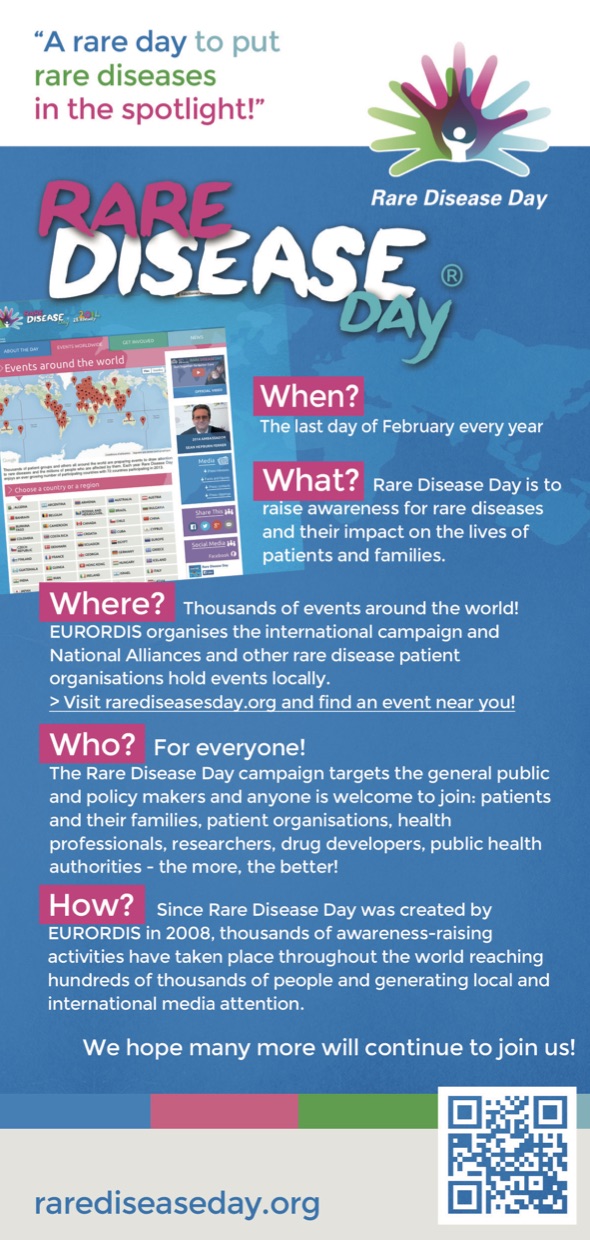 http://www.lupusalert.com/
Lupus was an unknown disease in Mauritius before the first press article on Dalilah Kalla, who publicly shared her suffering, traumatic experiences and agony at the very young age of 13 in July 1997.  Lupus Alert was founded in Mauritius on 17 January 2000 to provide support for Lupus patients, increase public awareness, improve communication between the patients and the healthcare providers and to raise funds.  Lupus Alert, also, work with other Lupus groups around the world to create worldwide recognition of the disease.
Lupus Alert has exponentially grown over the last 18 years, supporting more and more patients.  It has gained international recognition with the visits of several Professors from around the world, namely Professor D. Isenberg, a Consultant Rheumatologist from University College London, Professor Timothy Vyse from Imperial College London and Professor Slyviane Muller, Research Director of CNRS Laboratory of Therapeutic Immunology and Chemistry at the Institute of Molecular and Cellular Biology, Strasbourg.