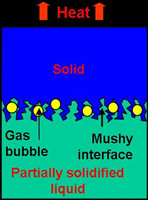 The desorption of bubbles during solidification of a melt occurs in processes as diverse as the making of ice cubes, the formation of igneous rocks and in the casting of metals. In both the metal casting and rock formation processes, careful observation of the final solid suggests that the desorbed bubbles often form regular spatial patterns. Understanding and quantifying the mechanisms by which such patterns arise is important. In the geological context, comparison between field measurements and the predictions of a model will allow geologists to estimate in-situ magma properties. In the metal casting context, engineers would like to be able to specify mould geometries and cooling conditions to ensure that the distribution of bubbles will not compromise the strength of critical sections of the casting.
In this PhD project, we develop a detailed mathematical model to predict the distribution of desorbed bubbles in a solidified melt. We showed that our theoretical model captures the important physical mechanisms involved in the solidification and desorption processes by comparing its predictions with available measurements from a geological formation, the Ogi sill in Japan.
Prize: Danckwerts-Pergamon Prize for best thesis of 2002, Dept of Chemical Engineering, University of Cambridge.
 
(click images to enlarge)
| | | |
| --- | --- | --- |
| Bubble layers in the Ogi picrite sill, Japan (from Toramaru et al. 1996). | Bubbles of nitrogen desorbed during the solidification of a chromium steel ingot (from Carey 1953). | Geometrically spaced layers of precipitate in a system of K2CrO4 in solution above a gel containing AgNO3. |