When a gas undergoes an exothermic reaction within an unstirred batch reactor, spatial temperature gradients develop. If these gradients become sufficiently large, the resulting buoyancy forces will cause the gas to move. This natural convection can have a significant influence on the progress of the reaction.
In this PhD project, we studied the effect of natural convection on the temperature and concentration fields of a gas-phase reaction occurring inside a batch spherical vessel. We showed that the system's behaviour depends on the relative magnitude of the time scales for chemical reaction, diffusion and natural convection. Our theoretical predictions agree very well with previous experimental measurements.
(click image to enlarge)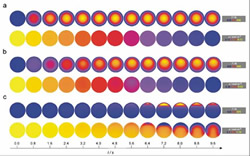 Evolution of the temperature field (top) and concentration of azomethane field (bottom) over the period t =0. - 9.6 s. The frames occur at regular intervals of 0.8 s. Three cases are shown, corresponding to different values of Ra.  (a) shows the Ra = 43 case, (b) shows the Ra = 1173 case and (c) shows the Ra = 21900 case. The temperature and concentration scales appear to the right and it should be noted that these are different for each case presented.