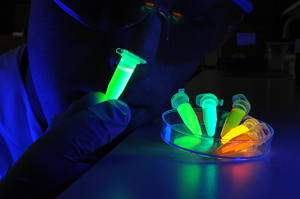 The Biotechnology cluster within CEB integrates highly diverse scientific disciplines, with the aim of developing sustainable processes, novel healthcare applications and sensor technologies. The cluster supports a broad research programme and examples of the applications of our work include:
Formulation, purification and delivery of sustainable, highly potent biopharmaceuticals, where bioprocessing has been simplified by new approaches to combining individual unit operations into fewer steps, accompanied by the exploitation of biological affinity in highly selective adsorption separations techniques.
The combination of biological science with electronics and materials science, resulting in the development of novel heart valves, and nipple guards that prevent the transfer of infection.  
Novel diagnostic and disease monitoring applications, which include innovations such as 'lab-on-a-phone' technologies.
The imaginative use of proteomics biomarker discovery, directly integrated with diagnostic test development.
The study of structure and germination behavior of bacterial spores to deliver  fundamental insights, the application of which may improve present capabilities in public health, food safety, probiotics, counter-terrorism and environmental decontamination sectors.
The development and application of advanced imaging technologies such as single molecule and optical super-resolution imaging to elucidate molecular mechanisms of disease, for example during neuro-degeneration or viral infection.
The Biotechnology Cluster Research Groups within CEB are listed below. The academic and research staff associated with the cluster have diverse backgrounds in the biosciences (molecular biology, cell biology, genetics, microbiology, biochemistry), medicine (psychiatry), physical sciences (organic and physical chemistry, physics, materials science) and technology (biotechnology, chemical engineering, electrical engineering). Their scientific expertise and commercial strengths in biotechnology underpin a diverse PhD research study programme and the Master's in Bioscience Enterprise course, a one-year taught programme that combines science and healthcare with business and management training.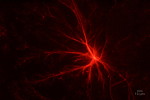 Analytical Biotechnology, led by Professor Lisa Hall
Research focuses on the interfaces of electronic, mechanical and optical systems and the development of new instrumentation and techniques with fundamental and applied relevance for bio-functional materials, diagnostics and bioelectronics.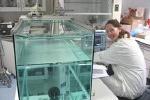 Bioscience Engineering, led by Professor Nigel Slater
With focus on the development of novel strategies for the manufacture, formulation and delivery of therapeutics, current research investigates novel delivery strategies for DNA and viral therapeutics, the improvement of the long term stability of biopharmaceuticals and affinity methods for their purification.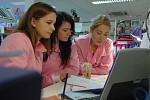 Cambridge Centre for Neuropsychiatric Research, led by Professor Sabine Bahn
Programmes to define the molecular basis of complex neuropsychiatric disorders including schizophrenia and bipolar affective disorder, employ combined multi-omics and exploratory bioinformatics approaches to determine disease mechanisms and improve diagnostics.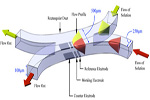 Electrochemical and Micro Engineering, led by Dr Adrian Fisher
Uniting a range of interdisciplinary technologies  including; micro-fabrication, fluid dynamics, numerical simulations,  spectroscopic analysis and electrochemical methodology, to design, manufacture and apply microscale  reactor systems for the development of the next generation of  (bio)chemical sensors.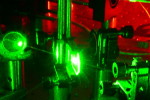 Laser Analytics, led by Professor Clemens Kaminski
Developing the whole gamut of advanced optical imaging techniques from single molecule super-resolution imaging to live whole organism imaging, thereby elucidating the molecular mechanisms of disease.  A key interest is the study of protein aggregation diseases and the molecular details of virus particle assembly.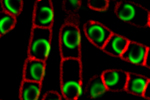 Molecular Microbiology, led by Dr Graham Christie
The application of molecular biology, biochemical and macromolecular X-ray crystallography techniques to study the structure, assembly and germination of Bacillus and Clostridium spores.
Sustainable Reaction Engineering, led by Professor Alexei Lapkin
With a view to whole process design and sustainability assessment, the group is developing new reactor concepts based on intensive reaction conditions, novel materials, sensor and control strategies, and works to understand the supply chain and life cycle environmental implications of  petrochemical and renewable biofeedstocks supply chains.
MPhil in Biotechnology
An 11-month full-time programme, combining taught and research components to provide students with state-of-the-art education in biotechnology at the interface of biological and physical sciences and technology.
Master's in Bioscience Enterprise Programme
An intensive, professional practice life science business course, that fosters business and management skills through a highly participatory syllabus and business placements.
PhD Programme in Biotechnology and /or Chemical Engineering
Study opportunities addressing technical and economic challenges in sustainable processes and the healthcare and materials development agendas abound, in the fundamental science disciplines of biology, chemistry, engineering, and physics, and at their inter-disciplinary margins.