Microstructure is important
Many materials derive their characteristic properties, performance and value from the way that they are organised at the micron-millimetre scale. Many modern materials are multi-phase, and are manufactured by processes that seek to create particular microstructures.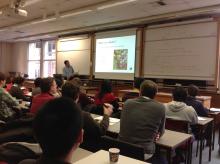 The Microstructure Engineering Cluster has been set up to support activities in the theme of microstructure engineering. This is an informal grouping of research groups within CEB, representing commonality of interests, linked skill sets and projects.
Within the cluster there are researchers with expertise in measuring microstructures, in processes for manufacturing structured materials, in techniques for modelling the processing or product performance, and in designing micro-structured, functional products.
Some projects are driven by industrial need, focusing on understanding how current materials work and develop the fundamental understanding of processes to support sustainable manufacturing. Others are more speculative, asking how could we create such a structure?  Many are translational, looking at transferring concepts across industrial sectors and scientific boundaries. Many involve collaboration with groups from other Departments at Cambridge and with collaborators across the world.
CEB groups active in the cluster are:
Analysis facilities:
Building a science base & technology transfer
Many of the projects in the Microstructure Engineering Cluster are sponsored by industry as well as research councils. Examples include:
Read all about it!
Cluster members are regularly publishing results in the following four fields (as well as others). Click a topic to find a list of recent papers.
If you would like to know more about the cluster, or participate in a meeting, please contact Dr Ian Wilson (diw11@cam.ac.uk)