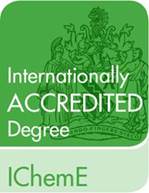 The Chemical Engineering course at Cambridge enjoys a reputation for excellence in its teaching and research, regularly topping national league tables. The department is small enough for everyone to know each other, but large enough to provide excellent facilities ranging from state-of-the-art research equipment to a communal tea-room.
The Chemical Engineering course at Cambridge is a fully IChemE accredited 4-year undergraduate course leading to BA and MEng qualifications, with the option to graduate after three years with the BA degree. The Department has strong links with industry and graduates of the course are very much in demand.
The links on the left-hand side provide more information.