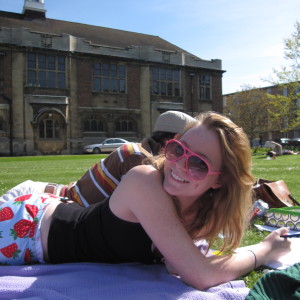 I decided to study Chemical Engineering at some point when I was in Year 12, because I liked the idea of doing Physics and Maths in a more applied fashion and I didn't want to exclude Chemistry, hence Chemical Engineering. The decision bewildered my family who didn't really have any idea what it was about. Regardless, I picked Chemical Engineering via Engineering, and spent my first year at Cambridge in the Engineering department.
At school I did the International Baccalaureate (IB) rather than A-Levels. I feel that the IB system really prepared me for university life.
I really enjoyed the course at Cambridge. Our class size was quite small, and I found that the lecturers were much more involved than in Engineering where they have to lecture 300 at a time. Alongside regular lectures, we had exercises which are individual projects which ran over the course of three weeks. The Design Project, at the end of third year was memorable, and you learn huge amounts about yourself and how to work as a team, as well as working to a tight deadline.
It would be wrong to say that all I did was work at Cambridge. I was on my College May Ball Committee in my first year, and was a member of the University Mixed Lacrosse Club for my first two years. In my second year, I was involved with the students' union of my College, and I became President of this union in my third year. In my final year I decided that I should knuckle down and start job hunting!
My research into Chemical Engineering degrees, and the course at Cambridge, showed me that it is a degree which doesn't close many doors in terms of future career opportunities. This became clearer when I saw how many different companies come into the department to talk to the students. With that in mind, I hadn't really figured out what it was that I wanted to do after graduating until my last year, because I knew that there were lots of options. I completed an internship with Proctor & Gamble in the summer after my third year, before deciding that it wasn't for me. After graduating, I will start work as a management consultant with McKinsey.
This course is challenging, and as well as studying Chemical Engineering, you get to learn a lot about yourself, how you work, and skills which will be useful wherever life takes you.
College: Emmanuel
Route: Chemical Engineering via Engineering
IB Higher Level: Maths, Chemistry, Physics
IB Standard Level: French, Economics, English