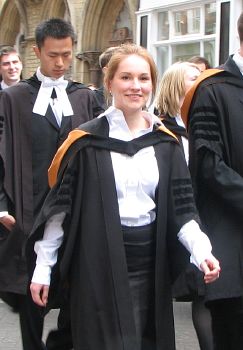 I'm not entirely sure when I decided to study chemical engineering but the last four years have flown by and I have no regrets about my decision. I studied Maths, Chemistry, Physics and Art at A-level and went on a one week 'Insight' course which made me realise studying an engineering degree would open up lots of career opportunities. I applied to Cambridge and chose to enter the course through general engineering.
The chem. eng. department is relatively small (though currently growing rapidly) and as a result has a fantastically friendly atmosphere which I appreciated from the start. It's a lot more engaging to be taught in a group of 40 or so rather than a couple of hundred and you soon get to know everyone. I got involved with the student society (CUCES) from the start which is an integral part of the social side of the department organising brewery trips, summer BBQ, formal hall swaps and the annual national Frank Morton sports day.
Lectures take place in the mornings and so afternoons are left free for supervisions, working on exercises and all of the other activities on offer in Cambridge. There's a fair amount of work to do but still plenty of time for other things. I have taken up some new sports since arriving in Cambridge - rowing and rugby, and I've played netball and football for my College.
The course is mainly exam based but the design project in the third year will certainly always be memorable. I also found the option to study a language in the fourth year really rewarding and hope it will be useful on my travels after graduation. The whole course develops a wide range of skills from the obvious technical stuff to team work and giving presentations. As a result employers are very keen to recruit Cambridge chemical engineers. In my summers I have worked in London for a building services contractor, on an oil refinery on the South coast with Exxon Mobil, and last summer I spent 3 months in Brussels working for Procter & Gamble. There is such a wide range of job opportunities out there as a chem. eng. graduate and I am looking forward to starting work as a consultant with Stroud in September after a well deserved summer in South America.
There are probably easier courses to follow at University but this one is pretty special.
College: St John's
Route: Chemical Engineering via Engineering
A-Levels: Mathematics, Chemistry, Physics, Art