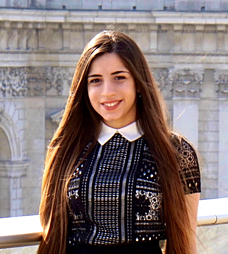 Chemical Engineering involves the blending of different scientific principles and manufacturing realities. Prior to joining the course I completed A-Levels in Cyprus where my inclination towards sciences, such as physics, chemistry and mathematics became evident. I was therefore delighted to have found a course that involved all of the subjects I enjoyed with the underlying theoretical scientific principles having applications in a wide variety of industries.
The chemical engineering course in Cambridge turned out to be one of the most challenging and rewarding experiences. It strengthened students' grasp of fundamental principles whilst offering a range of choices to further broaden knowledge and skills. In particular, in the final year of studies we were presented with a choice of subjects that included learning a new foreign language, understanding pharmacokinetic characteristics of tablets containing dugs, or designing novel biosensors. The wide range of qualities that chemical engineers possess is reflected by the high demand for their skills. Many companies advertise work opportunities and internships through various department career events. For example, ExxonMobil sponsored the design project carried out at the end of my third year which was on the manufacture of methyl ethyl ketone.
Most importantly, Chemical Engineering is one of the friendliest departments in the university with an exceptionally diverse and close atmosphere. The brand new building offers not only great quality of teaching but also the newest research facilities. With only 60-70 students in each year, the department ensures full access to a wide range of resources for every single student. Most importantly, everyone gets to know everyone in the course - students even know the academic and support staff - encouraging teamwork, collaboration and the formation of long-lasting friendships.
Chemical engineering can open the doors to all sorts of career paths whether in process industries (oil & gas, chemicals, pharmaceuticals, consumer goods, food manufacturing), or elsewhere. Following a summer internship, I will be joining the banking industry as an investment researcher in Goldman Sachs upon graduation – this proves that the subject really does enable you to explore any career path you wish.
College: Girton
Route: Chemical Engineering via Natural Sciences
A-levels: Maths, Chemistry, Physics, Further Maths, Economics