Chemical Engineering and Biotechnology, West Cambridge Site [Map]
Please see the directions for further information on getting here by car, train, bus and bicycle.
Department of Chemical Engineering and Biotechnology
West Cambridge Site
Philippa Fawcett Drive
Cambridge
CB3 0AS

Tel: +44 (0)1223 748999
The Magnetic Resonance Research Centre (MRRC) [Map]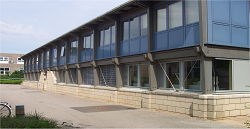 Magnetic Resonance Research Centre
c/o Cavendish Stores,
JJ Thomson Avenue,
Cambridge,
CB3 0HE
Tel: +44(0)1223 334777
Public transport: From the city centre take the UNI 4 bus service to the West Cambridge Site.
Driving directions:
From the south: Take J13 of the M11.
From the north: You cannot exit at Junction 13. Continue to Junction 12 (approximately 1 mile south) and rejoin the M11 northbound back to Junction 13
Travel along Madingley Road towards Cambridge. After approximately one mile, turn right on JJ Thomson Avenue, signposted 'West Cambridge site, Cavendish Laboratory & MRRC.
To reach the MRRC, walk to the end of the path to the right / south of the Bragg building, passing the Mott Building and then an open space. At the T-junction, the MRRC is located ahead and to your left. Please use the intercom at the front door to contact the receptionist. 
Note that the MRRC is located to the rear of the Bragg Building, the central building of the Cavendish Laboratory and which houses the reception of the Department of Physics. Reception staff are happy to offer directions if you find it difficult to locate the MRRC.