The Magnetic Resonance Research Centre is located on the West Cambridge Site near the Cavendish Laboratories 
Delivery address: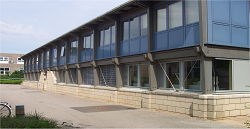 Magnetic Resonance Research Centre,
c/o Cavendish Stores,
JJ Thompson Avenue,
Cambridge,
CB3 0HE
Telephone +44 (0)1223 334777
Fax +44 (0)1223 334796
Map:
University map:  Magnetic Resonance Research Centre (Cavendish Site)
Directions:
To travel to the MRRC, by car
From the M11 Northbound exit at Junction 13 and turn right towards Cambridge on Madingley Road. One mile from Junction 13 is the entrance to the University's West Cambridge Site on the right hand side of the road, signposted to the West Cambridge Site, Cavendish Laboratory and MRRC.
From the A14 / M11 Southbound, you cannot exit at Junction 13. Continue to Junction 12 (approximately 1 mile South) and rejoin the M11 Northbound back to Junction 13 and proceed as above.
After leaving Madingley Road the MRRC and Cavendish Laboratory are located approximately 300 yards into the site on the left. Park in any of the car parks to the front of the buildings.
To get to the MRRC by bus
from the railway station or bus station, a short walk will take you to a bus stop for the Uni 4
If you arrive at the railway station, bus station or Cambridge Airport and wish to take a taxi, ask for "Cavendish Laboratory, Madingley Road". (This is a well known location).
The MRRC is located to the rear of the large central building of the Cavendish Laboratory, the Bragg Building. The Bragg Building contains the reception to the Department of Physics; it is not necessary to report here, but they will be happy to offer directions if needed. To reach the MRRC walk down the path to the right (South) of the Bragg building as far as you can, passing firstly the Mott Building and then an open space to the right. At the T-junction of the path the MRRC is located just ahead of you and to your left. Please use the intercom at the front door.