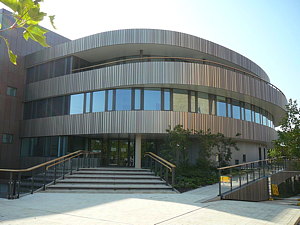 Address:
Department of Chemical Engineering and Biotechnology
West Cambridge Site
Philippa Fawcett Drive
Cambridge
CB3 0AS
Telephone +44 (0)1223 748999
Click on the map above to zoom in, zoom out and pan across or go to the University Map Department of Chemical Engineering and Biotechnology (West Cambridge Site)
Directions:
By car:
If using satnav, the postcode is CB3 0AS.
Alternatively
From the M11 Northbound exit at Junction 13 and turn right towards Cambridge on Madingley Road. One mile from Junction 13 is the entrance to the University's West Cambridge Site on the right hand side of the road.
From the A14 / M11 Southbound, you cannot exit at Junction 13. Continue to Junction 12 (approximately 1 mile South) and rejoin the M11 Northbound back to Junction 13 and proceed as above.
Within the West Cambridge site, please see the map above.
Parking:
The car park immediately in front of the Department building (car park 6) is for staff use only. Visitors should drive past the building heading west and park in car park 8.

The car parks require an entry code. Visitors should please request an access code from their host a few days in advance of their visit.
By bus:
The West Cambridge Site is served well by bus routes. 
The Universal bus (run by Whippet) comes on to the West Cambridge Site. There is no stop directly outside CEB, but stops outside the Institute for Manufacturing (IfM) or the Department of Materials Science & Metallurgy (MSM) are very close by.
There is also the Citi 4 and the Madingley Road Park & Ride which is run by Stagecoach.
By train:
Cambridge Railway Station is about 3 miles from the New Building. You may take the Universal bus from the station (around 30 minutes) or a taxi (around 15 minutes).
Bicycle:
Cambridge is a compact and flat city, so cycling and walking are quick, cheap and pollution-free methods of travel.
The Cambridge Cycle Map is available from Cambridge City Council.