The Department welcomes applications from potential students with First Class and High 2.i academic credentials and from high quality institutions.
For our PhDs and the MPhil* in Chemical Engineering and Biotechnology course, students may nominate a supervisor with whom they wish to work as part of the application, but that does it guarantee that the supervisor will agree to supervise.  (*Applicants wishing to pursue the MPhil in Chemical Engineering & Biotechnology should be aware that not all groups are open to such applications; please visit our MPhil page to see which groups can currently consider MPhil applications.) Students are encouraged to consult the Department's Faculty and specifically the Research Group pages to aid in selecting a prospective supervisor for those courses.  Please be aware that applications without a named supervisor and research proposal have a very low acceptance rate.
Applications are invited for the following research and taught postgraduate science and business degree programmes. 
Research Programmes
Master's in Science & Business Programmes
M.Phil. in Advanced Chemical Engineering (ACE) - an 11-month taught course that offers both conventional research experience and knowledge of advanced aspects of chemical engineering, together with essential areas of business administration.
M.Phil. in Bioscience Enterprise (MBE) -  an intensive, life science business course lasting nine-months that fosters professional business and management skills through a highly interactive curriculum, business engagements, and placements. 
M.Phil in Biotechnology - a one-year, full-time course that will equip students with practical skills in biotechnology and provide training in research in biotechnology based on an in-depth multidisciplinary scientific programme.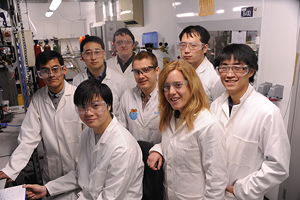 Our vision is to produce academic, industrial, managerial and entrepreneurial leaders of tomorrow and equip them with the technical and intellectual skills required to tackle key global issues such as healthcare, the environment, and sustainability.
Our highly international postgraduate community currently comprises around 180 talented students, who are either completing the MPhil or PhD by research in Chemical Engineering or Biotechnology or are taking one of the Department's three innovative taught Master's Courses that provide training in business and management as well as in science.  Throughout their studies, students are supervised by members of the department's world-leading, interdisciplinary research staff, many of whom have strong business skills as well as a keen interest in the education of the next generation of researchers, entrepreneurs and innovators.  Students enjoy close interactions with other researchers, fellow students and within and between research and teaching groups and through their College membership, access a diversity of extracurricular, social and sporting opportunities.
For individuals who plan to pursue academic and industrial research careers, we offer MPhil and PhD research programmes across the breadth of chemical engineering and biotechnology disciplines. Students are provided with training in the research skills employed in the fundamental and applied sciences and have access to state-of-the-art research equipment and facilities. 
We also offer three taught MPhil programmes that combine teaching of the advances in science with business skills and are designed for individuals who, in the future, intend to take up management positions, consultancy roles, or have entrepreneurial interests and aim to found their own enterprises. MBE students develop professional problem-solving skills through participation in a consultancy project with a UK client organisation. At the culmination of their taught courses, students produce a thesis based on data gathered during a period of individual research.  ACE students pursue a laboratory-based research project, whilst MBE students undertake a company internship placement.   
The taught courses provide a high degree of flexibility, and although the majority of taught MPhil programme students do not continue in academia, graduates are not precluded at a later date from taking up PhD studies or following a research career.