I graduated with a degree in Chemical Engineering from the University of Coimbra (Portugal) in 2006.  In the last years of my degree I worked on design and research projects focusing on biofuels and alternative strategies for the treatment of industrial effluents using catalytic oxidation.  While participating in these projects I gained a lot of interest in catalysis and reaction engineering and I found great challenges in the fields of green and environmentally friendly technologies.  I also got really enthusiastic about doing research and that led me to apply for a PhD!
The excellence of the University of Cambridge, its international spirit and the outstanding quality of its research put Cambridge at the top of my list of options.  Initially, I was intimidated by the application process, but soon I realised that it was in fact really easy and that all the academic and administrative staff were extremely friendly and helpful.
I am now working at the Magnetic Resonance Research Centre under the supervision of Prof Lynn Gladden.  My project makes use of a wide range of magnetic resonance techniques, using both spectroscopy and imaging, to study catalytic reactors.  It is certainly a unique opportunity to participate in an interdisciplinary project combining reaction engineering and cutting-edge measurement techniques.  At the MRRC, I found an excellent team of researchers and a great level of interaction.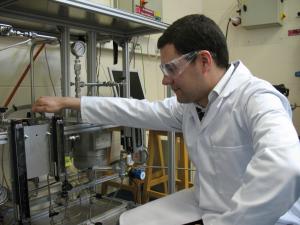 After a hard day's work, I appreciate the opportunity to relax in multicultural environment of my college.  Living at Wolfson, a graduate college, gave me the opportunity to meet friends from all over the world and to try numerous cultural, social and sports activities.  I have found myself playing a variety of sports from squash, badminton and tennis to swimming and, of course, cycling all day!  The university has a wide variety of cultural, social and sport societies with which you can engage.  At the Cambridge University Technological and Enterprise Club I learnt about technological entrepreneurship and I participated in the organisation of several events on this theme.
Cambridge is certainly the best university to enjoy both research and social life!