Submitted by Anonymous on Mon, 10/09/2018 - 13:29
---
The Sensor CDT Challenge is the final part of the Sensor CDT MRes degree. This year, the students' challenge was to design and implement a "citizen science sensor project". When it came to setting up a citizen science project in Cambridge, a city in which one in three residents cycles to work, the Sensor CDT students naturally gravitated towards the idea of incorporating bikes into their project. Given the challenge, the team have created the CamBike Sensor, a cyclist's mobile sensor hub for big data citizen science. The CamBike Sensor promises to provide useful data to map air pollution, with the aim to improve the cycling infrastructure in Cambridge, and has involved the wider community of Cambridge to play an active role in the advancement of scientific knowledge. The team is now in contact with representatives of the Cambridge City council, South Cambridgeshire district council, and Cambridgeshire county councils to discuss how the data could be best used.
As a citizen science initiative, the CamBike project relies on citizen engagement, which the team tried to enhance in multiple ways. Several hands-on events were organised, aimed at different audiences. A one-day Makeathon was held at Cambridge Makespace, which gave rise to new ideas for the device casing and power supply. Furthermore, a workshop for parents and children was held at the Centre for Computing History, in which participants soldered together a unique type of CamBike Sensor themselves. The team also reached out to local news outlets. Media interest includes a Cambridge105 broadcast, features on That's Cambridge TV, and a presentation at the Fab City Summit in Paris.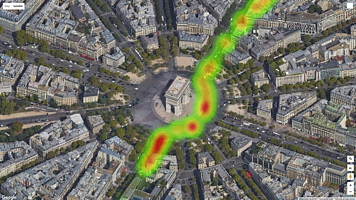 By now, there are over seventy registered volunteers, and the first dozen sensors hubs are on the road with volunteers. Volunteers come from a range of backgrounds, and will now start mapping their commutes and other favourite routes. Using this data, the team will soon start building aggregated maps of Cambridge air quality.
The team members will now apply their experiences and creativity to new challenges, which include their PhD projects, but also some new experiences on the CamBike front. The team will present their work at a Cambridge Wireless event in September, and at a Women in Computing event at the Centre for Computing History aimed at thirteen-year-old girls. In short, to be continued…
The CDT's page on the team challenge