Submitted by Anonymous on Tue, 16/06/2015 - 17:09
---
CEB is deeply saddened to report the tragic death of Rebecca Long, a popular and talented Chemical Engineering undergraduate student.
Becca died last Saturday morning (13 June 2015) following serious injuries sustained after being hit by a car when she was walking along Huntingdon Road, near Girton College, in the early hours of last Thursday.
She was a third-year undergraduate studying at Sidney Sussex College. Senior tutor Max Beber said, 'The College has been shocked and saddened by the news of Rebecca's death. She was a bright chemical engineering student, and played a full part in college life. She was a valued friend to many in college and the university, and will be much missed'.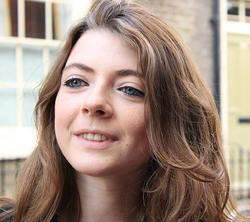 Dr Patrick Barrie, CEB Director of Teaching commented, 'Members of the Department are devastated by the accident. Rebecca was a good student with a bright future ahead of her. She was a genuinely nice human being who was always prepared to talk and laugh with anyone. We are going to miss her smile in the Department tea room'.
On behalf of CEB, Elena Gonzalez, PA to HoD and Alumni Relations, added, 'Our thoughts are with Becca's family, friends and fellow students. We have suddenly lost one of our own and it is a big shock to us all. Luckily, our undergrad students are a very close-knit community and they are supporting one another extremely well.  We are also providing fellow students with as much support as we can in this sad and difficult time'.
The CU Chemical Engineering Society has reported that they are going ahead with plans for the annual end-of-year student BBQ taking place today (16 June 2015) at Churchill College Chapel grounds. Becca's fellow classmate and good friend Hannah Templeman added, 'The current plan is to continue with the BBQ as Becca would have wanted, but have a moment to celebrate her life and how lucky we were to be her friends. We will also have lots of colourful helium balloons on which friends can attach a message or a memory of Becca if they would like to. Becca's boyfriend has given us a song he would like to play when we release them'.
All Department members have been invited take part in this tribute to Becca to help honour her memory and bring some comfort and solace to all those who knew her and will sorely miss her.  
Young Minds Trust
If you would like to honour Rebecca, her family have set up a justgiving page, collecting donations for Young Minds Trust because Rebecca always cared about helping young people.
There are no upcoming talks currently scheduled in this series.