British Society of Rheology Midwinter Meeting
The lively poster session at the meeting
On the 8th and 9th December the Polymer Fluids Group hosted a very successful British Society of Rheology Midwinter Meeting held at the Department of Chemical Engineering, University of Cambridge. The subject of the meeting was "Multiscale Rheology" and length scales from continuum through meso, micro, nano and molecular were covered. The fifty delegates enjoyed excellent presentations and lively debates throughout the meeting.
Cross-Slot flow in the Multi-Pass Rheometer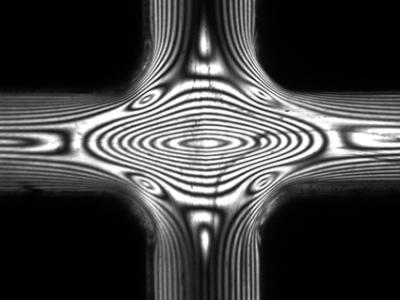 Optical birefringence image of a highly branched metallocene catalysed polyethylene, taken 0.27s after the start-up of flow. Polymer flows into the cross slot through the vertical channels and leaves via the horizontal ones.
Some recent work using the Cambridge Multi-Pass Rheometer (MPR) has focused on elucidating the effect of branching upon the stress build up and relaxation in extensional flows. Using cross-slot inserts, 12g samples of metallocene catalysed polyethylene's with varying levels of branching were investigated under a range of flow conditions using optical birefringence. The resultant stress patterns were subsequently compared and initial results were presented in oral and poster form at the autumn meeting of the micro-polymer processing research consortium (muPP2).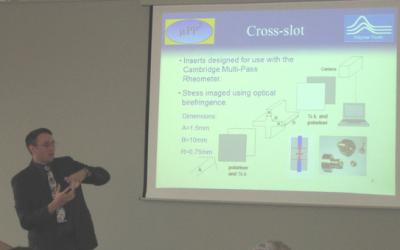 David giving his cross-slot presentation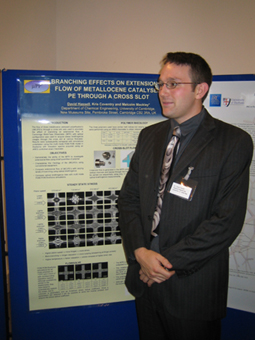 David at the poster session
Professor David Grubb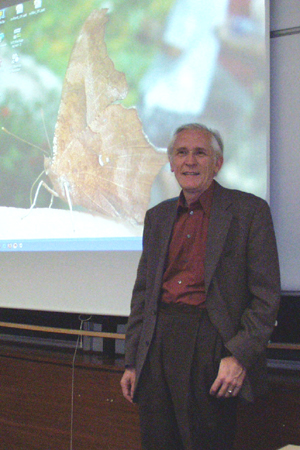 Prof. David Grubb
On the 13th October 2005 Professor David Grubb of Cornell University visited the Polymer Fluids Group. In the morning he was able to meet the individual members of the group and discuss their research. In the afternoon Professor Grubb presented a lively seminer entitled "Natural protein fibers; silk and beta-keratin". He described the failed attempts to produce synthetic spider silk and his more recent and successful research on polymers from feather proteins.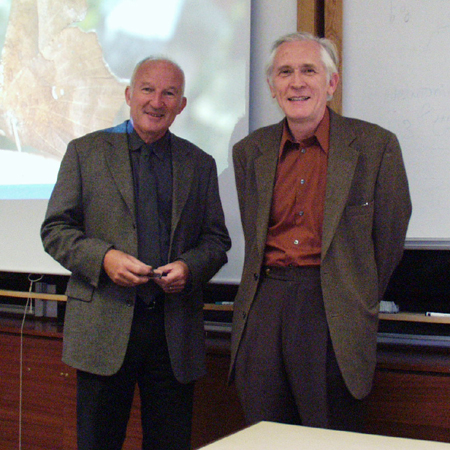 Professor Grubb with Professor Mackley
77th Society of Rheology meeting, Vancouver, October 16th - 25th, 2005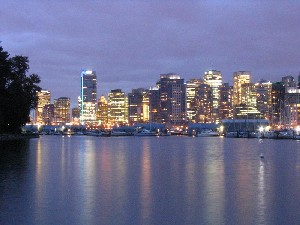 Vancouver at night
From the 16th to the 25th of October, Bart Hallmark of the Polymer Fluids group attended the 77th Society of Rheology meeting in Vancouver, Canada. This superbly organised meeting brought together the top rheologists not only in North America, but worldwide. The meeting was also attended by former P3G member, Dean Barker, and the head of the P3G, Dr Ian Wilson. Bart gave a keynote talk titled 'Micro-flow in Microcapillary Films'.
The 77th meeting marked the work of Prof. Morton Denn as the long-serving editor of the Journal of Rheology and also honoured Profs. John Dealy and Jan Mewis (2005 Bingham medalist) for their distinguished rheological careers. The conference also provided a fitting occasion for Prof. Gareth McKinley to open the new Complex Fluids Lab at the University of British Columbia.
| | |
| --- | --- |
| | |
| Bart Hallmark, Ian Wilson and Dean Barker at the conference | Long Beach and the Pacific Rim on the west coast of Vancouver Island |
European Conference on Materials (EUROMAT), Prague 2005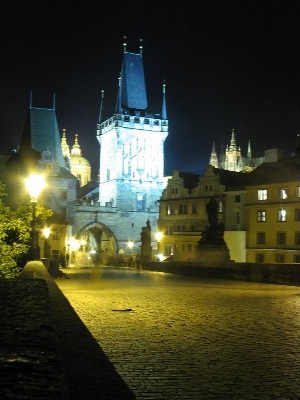 The Charles bridge by night
From the 5th to the 8th of September, Bart Hallmark of the Polymer Fluids group attended the European Conference on Materi als in Prague, Czech republic. This high-profile conference brought together the members of the Federation of European Materials Societes, FEMS, together with both industrialists and academics in all areas of materials science. Bart gave a keynote talk titled 'Plastic Microcapillary Film - from Process Innovation to Produc t Application'.
The meeting was an excellent opportunity to highlight the devlopment of microcapillary film science and technology that has been developed within the group to a multidisciplinary audience and also to hear first-hand some of the latest materials developments. There were a number of excellent plenary talks, notably by Prof. Sir David King and Prof. Sir Richard Friend.
Prague to Poland and back by bike
The Polish mountains and forests near Swieradow Zdroj
Forest trails near Mytiny
In addition to the conference, Prague provides an excellent starting point to go and explore [by bike...] some of the national parks on the Czech / Polish border and to experience some of the more off-the-beaten-track parts of Eastern Europe.
Trond Bustnes
Trond Bustnes, a former PhD student and postdoctoral researcher with the Polymer Fluids Group, has now returned to Norway. Trond writes:
"I now work as a Research Scientist in Gas Technology for the R&D foundation Polytec, which is based in Haugesund, Norway. Polytec conducts public and private funded research within three sectors - Gas Technolgy, Energy and the Environment and Maritime Safety. I am currently working on projects relating to the flow of gas in pipelines, doing contract research and seeking experimental verification methods for flow parameters that are important in the gas transport sector."
"Although I live by the sea with Kate and our little daughter Emily, we spend most of our weekend time playing in the rather spectacular mountains close to Haugesund. There is much unexplored fun to be had here."
Summer Seminar:
Prof Antonio Guerrero, Department of Chemical Engineering, University of Seville, Spain
Bioplastics from food proteins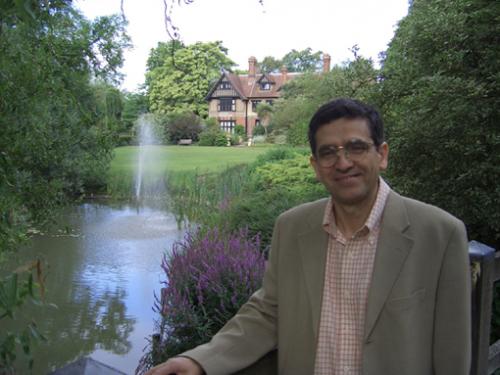 Prof Antonio Guerrero in the gardens of Robinson College
On the 3rd August 2005 Professor Antonio Guerrero gave a seminar concerning recent work carried out at the Universities of Seville and Huelva on using biopolymers to make plastics. They have discovered that by combining food protein gluten, or egg albumum, with glycerol and processing the materials in a particular way, they can produce a tough thermoplastic material. Antonio described a range of rheological characteristics of the materials that had been produced and he also discussed some of the interesting properties of this exciting new range of plastics.
Australian-Korean Rheology Conference, Cairns 2005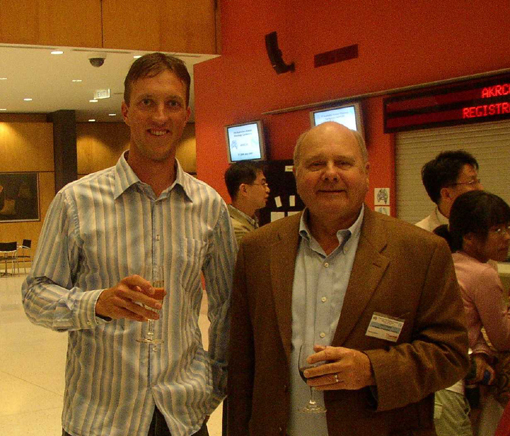 Kris with Prof. David Boger
From July 17th to 20th, Kris Coventry of the Polymer Fluids group attended the third Australian-Korean Rheology Conference in Cairns, Australia. The conference is jointly organised by the Australian Society of Rheology and the Korean Society of Rheology and is intended to provide a forum to showcase rheological research in Australia, Korea and the broader Pacific region. Kris presented his work on Cross-Slot extensional flow using the MPR. The meeting was an excellent opportunity to see the research that is happening on the other side of the world. There were a number of excellent plenary and keynote speakers talking on a large range of rheological topics.
Kris at the Great Barrier Reef and in the Daintree Rainforest.
In addition to the conference, Cairns provides an excellent opportunity to see some of the world's most spectacular ecosystems. It is nestled between the Great Barrier Reef and the Daintree Rainforest - both World Heritage listed sites.
Nuffield Science Bursary Scheme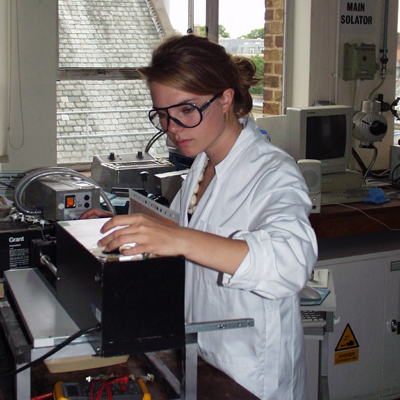 Philippa Clough working in the laboratory
Every year the Polymer Fluids Group takes part in the Nuffield Science Bursary Scheme. The scheme allows sixth form students to gain experience of research in an academic or industrial laboratory for approximatley one month during the summer vacation. The regonal co-ordinator for the Cambridge area is ExSciTe.
This year the student working with the Polymer Fluids Group is Philippa Clough. Philippa is studying the heat exchange properties of micro capillary films.
Polymer Fluids group in Glasgow:
7th World Congress of Chemical Engineering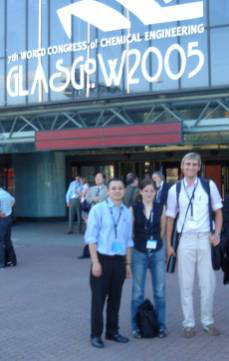 Tri, Gabriela and Christian standing in-front of the main entrance.
After the group's recent visit to South France for joint group meeting with CEMEF in Sophia Antipolis and Grenoble for an Annual European Rheology conference 2005, members of the Polymer Fluids Group headed north to attend the 7th World Congress of Chemical Engineering in Glasgow from 10-14 July 2005. This conference is held every four years and is the biggest world forum for innovation and achievement in chemical engineering.
Prof. Malcolm Mackley, Christian Hornung, Gabriela Hernandez and Tri Tuladhar were there to represent the polymer fluids group. Several papers and posters were presented by the group members at the conference.
"The melt rheology and foaming behaviour of starch using a Multipass Rheometer" by NC Nowjee, MR Mackley *.
"Novel microreactor design using thermoplastic microcapillary films" by CH Hornung*, B Hallmark, RP Hesketh, MR Mackley.
"Flow induced crystallisation of polyethylene in a multipass rheometer" by G Hernandez Fernandez del Castillo*, MR Mackley.
"Development of the oscillatory flow based process for the production of biodiesel transport fuel" by B Skelton, TE Bustnes, MR Mackley* (Poster).
"The development of polymer foam microstructure: experimental observations and matching modelling for polystyrene foams using different blowing agents" by TR Tuladhar* and MR Mackley (Poster).
Malcolm Christian giving their presentations
Gabriela giving her presentations and Tri standing by his poster.
At the conference, many participants showed lot of interests in our Microcapillary Film (MCF). During a coffee break after Christian's talk, many people stayed in the room to find out more about MCF from Malcolm and Christian. Prof. Robert Hesketh from Rowan University, New Jersey and a former member of the Polymer Fluids Group joined them and announced that there will be 'free MCF samples for everyone'. Many people queued to get MCF samples handed out by Prof. Malcolm Mackley.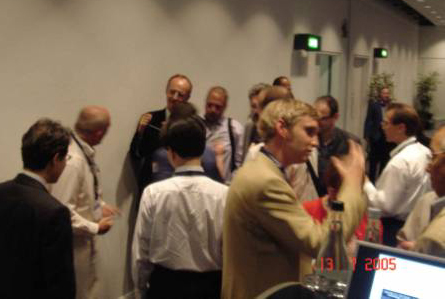 Malcolm and Christian explaining the potential of MCF during the coffee break after Christian's talk.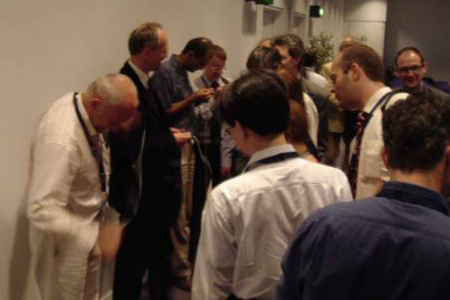 Malcolm busy handing over MCF samples to interested participants.
University of Huelva, Department of Chemical Engineering , Spain, 21/22nd June 2005
MPRs and PhDs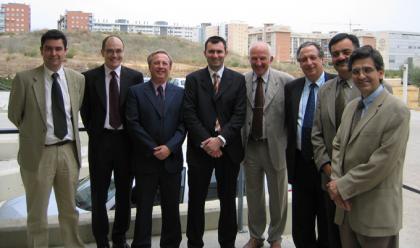 Moises Garcia (centre, next to Prof. Mackely) and the PhD jury, Huelva June 2005
Malcolm Mackley visited the Complex Fluids Group at Huelva in Andalucia, Spain where Prof Crispulo Callegos and his Group have secured funding for a Cambridge MPR with Xray facilities. Eland Test Plant hope too deliver the machine in early 2006. Malcolm gave a lecture entitled "The Cambridge Multipass Rheometer" describing recent developments in the MPR.
Malcolm was also took part in the defence jury for Moises Garcia, who had spent time in Cambridge in 2004 using the MPR for processing studies on road bitumens filled with recycled plastics. The presentation was excellent and Moises passed the public examination with top credit.
The Huelva Group are active in the fields of Biopolymers, emulsions, bitumens, lubricating grease and other complex fluids.
Prof. Mackley, Prof. Crispulo Callegos and Prof. Antonio Diogo, Huelva June 2005
6th International Symposium on Applied Rheology
Korea University, Seoul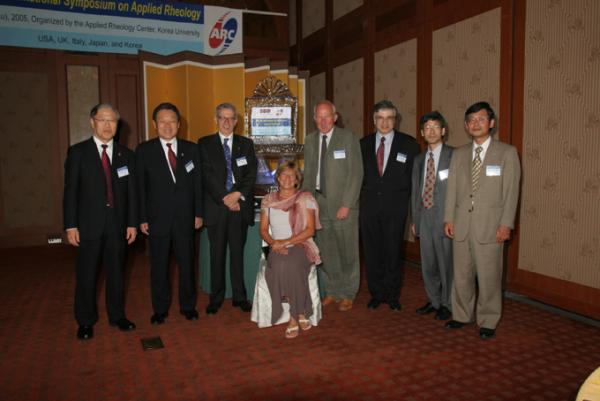 Prof Malcolm Mackley accompanied by his wife Margaret attended the 6th International Symposium of Applied Rheology at Korea University in Seoul on May 19th 2005. The symposium was masterminded by Prof Jae Chun Hyun and eight speakers were invited to talk about their recent work. Prof Antony Beris (Delaware USA) gave an account of his recent simulation studies where he introduced viscoelastic flow to turbulent flow within a channel in order to predict the "Thoms Effect" for drag reduction. Prof Pino Marruci (Naples USA) gave a lecture on molecular modelling for polymer melts where he carefully reviewed the development of ideas following the pioneering work of Doi and Edwards. The BSR President, Malcolm Mackley gave a lecture on the "High shear rate rheology of microstructured fluids" and gave examples relating to aqueous suspensions in printing ink resins, ice cream and carbon nano tube suspensions. Prof Kiyohito Koyama (Yamagata, Japan) talked about the extensional behaviour of polymer melts and Prof Yoshiaki Takahashi ( Kyushu, Japan) spoke about coalescence of polymer blends. There were also excellent Korean presentations that covered topics such as nano composites, blood flow and macro economics! The Korean economy as a whole is vibrant, as too is the Applied Rheology community. Companies such as LG and Samsung are investing heavily in both Universities and Technology and one can only hope that European based International Companies can match this challenge.
Cambridge - Cemef (Ecole des Mines de Paris) Seminar
The group memebers during the lunch break at CEMEF 
On Tuesday April 19 2005 the Polymer Fluids group (with guests Milan Patel and Dean Barker from the Powder and Paste Processing Group) held a joint one-day meeting with Cemef. The meeting was held at their research centre located in Sophia Antipolis, France, where Professor Mackley has been on sabbatical. Oral presentations were given by members of both groups together with a posters session during the lunch interval. The meeting was very successful and allowed the members of the groups to discuss their research and exchange ideas.
Oral presentations
 
 

Kris, Rudy and Yu Wen giving their presentations
The presentations given at the meeting included:
Julia Smirnova:
Numerical and experimental modelling of polymer crystallisation in injection moulding.
The kinetics of polymer crystallisation were investigated using optical microscopy to determine the rate of nucleation at different temperatures. The results were compared with numerical simulations carried out using the program REM3D.
Gabriela Hernandez:
Experimental observations on flow induced crystallisation of Polyethylene.
Gabriela presented the results she has obtained from optical and X-ray studies of polyethylene crystallisation together with her initial numerical simulations.
Bart Hallmark:
Inventing a stable process for the manufacture of thermoplastic microcapillary films.
Bart described the work he has carried out for his PhD on the successful development of an extrusion process for the manufacture of microcapillary film.
Abla Redjeb:
Numerical simulation of fibre orientation in injection moulding.
The development of a model to describe the flow and orientation of chopped glass fibres during injection moulding was discussed. The aim of this model is to identify potential weak points in reinforced injection mouldings.
Tri Tuladhar:
Experiments and matching modelling of the pentane foaming process.
Tri presented his work on the nucleation of foams in polymers using the Multi Pass Rheometer.
Tania Butdova:
Comparison between Micro-Gel and droplet behaviour under shear.
A counter rotating microscope stage was used to observe the microscopic break up of droplets under shear.
Yu Wen Chen :
Plastically Extruding and shaping chocolate!
Yu Wen discussed her work on the cold extrusion of chocolate and post extrusion processing. The problems she has experience with die design and her solution to these were presented together with modelling of extrusion and post extrusion stamping using Forge 3 and Forge respectively.
Rudy Valette:
Numerical modelling applied to clay extrusion.
Rudy, a former postdoc with the Polymer Fluids group who has now returned to France, described the software he is developing for numerical modelling. He is using this to model the extrusion of clay to form hollow bricks.
Kris Coventry:
Cross slot extensional flow experiments and modelling of polymer melts.
Kris presented his work on polymer extensional flow carried out using the Multi Pass Rheometer cross slot test section. This included his provisional modelling results.
Edith Peuvrel-Disdier:
Shear induced dispersion of porous agglomerates.
The results of experiments to study the break up of carbon black were presented. A counter rotating microscope stage was used to enable the break up of the particles to be observed microscopically. Two processes were identified: erosion and rupture.
Poster presentations
 

 The lunchtime poster session
The posters presented at the meeting by members of the Polymer Fluids Group included:
James Waldmeyer:
Emulsification of Oil Drops in an Aqueous Solution
Christian Hornung
Evaluation of Microcapillary Films for Microreactor Applications
Nitin Nowjee
Melt rheology and foaming of starch
Mingzhi Zheng
Fluid mechanics within an oscillatroy flow meso-reactor
Dean Barker
Thermal processing of pastes
Milan Patel
Developing a Paste Formulation Criterion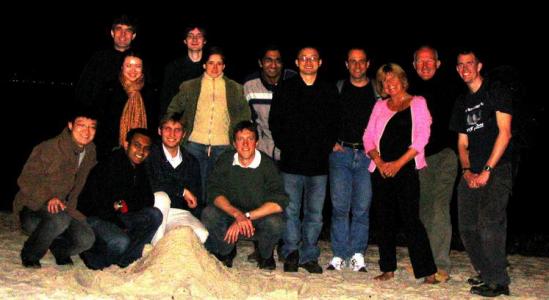 The group on the beach at Antebes