11 November 2012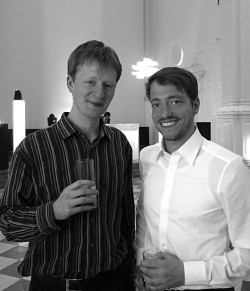 Patrick Gordon and Hannes Stoye, from TU-Dresden, who also received a prize
Patrick Gordon has received a prize for his PhD work on "Developing greener cleaning fluids using fluid dynamic gauging".
He has been awarded the Hygienic Study Award 2012 by the European Hygienic Equipment and Design Group (EHEDG, the pan European organisation addressing hygiene in process engineering and manufacture) for the the best PhD thesis in the field.
He was awarded the prize at the EHEDG Conference in Valencia, Spain on 7/8 November 2012.
Patrick was a member of the Powder and Paste Processing Group, supervised by Dr Ian Wilson and Dr John Chew (now at Bath). His PhD was a Food Processing Faraday Partnership project sponsored by Procter & Gamble.  He is now working for Bosch and Siemens Home Appliances in Berlin, looking at the relationship between a washing machine's design and its energy label/performance.