House of Commons Prize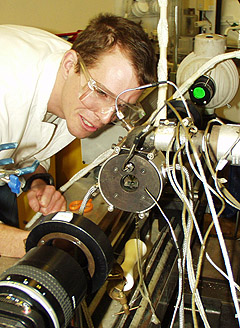 Bart working on his extrusion apparatus
 Dr Bart Hallmark of the Polymer Fluids Group attended the meeting for Early-Stage Research Engineers at the House of Commons on the 12th December 2006, a meeting organised by SET for Britain. He presented a poster on his work on polymer micro capillary films and won the BNFL section prize for the best UK engineering R&D.
Bart's poster was entitled The invention and innovation of a novel plastic Microcapillary Film technology and covered the four and a half year story of the invention, initial development, and refinement of Microcapillary Films (MCFs) along with some of the proof-of-concept studies on their application uses. Bart has been working on a simple and exciting new plastic processing technology. The novel material, Microcapillary Film (MCF), is a flat extrusion-processed, flexible, plastic film containing an array of microcapillaries that run along its entire length. The precision engineered capillaries are effectively uniform and can range between 30 microns and 1 millimetre in diameter. Potential application areas are widespread and include its use as sensory equipment in the Formula 1 racing industry and in high-performance sailing, as a low-cost material for making domestic solar panels and, with further process development, as a material to create coloured fabrics without the use of chemical dyes.
µPP2 Autumn Meeting: Durham University, 21st - 22nd September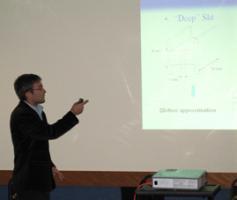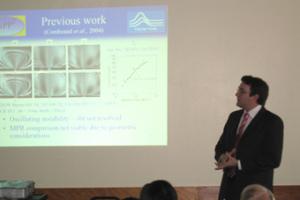 Lino (left) and David (right) giving their presentations at the meeting.
David Hassell, Lino Scelsi and Simon Butler attended the Autumn Meeting of the Microscale Polymer Processing 2 (µPP2) consortium, held at Collingwood College, Durham University. On the first day of the meeting David presented his latest research on flow instabilities. On the second day Lino presented his work on flow induced crystallisation in polymer melts. Both presentations were warmly received by the audience.
Dawn Arda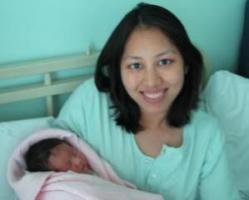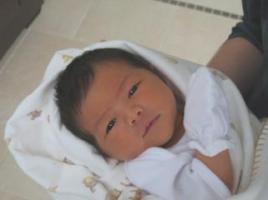 Dawn and her new baby
Former member of the Polymer Fluids Group Dawn Arda and her husband Kerim have announced the arrival of their baby daughter Lily Tessica. Lily was born on Tuesday 8th August at 10:53 am, weighing 6 lb 15 oz. Mother and baby are doing well.
Nuffield Science Bursary Scheme 2006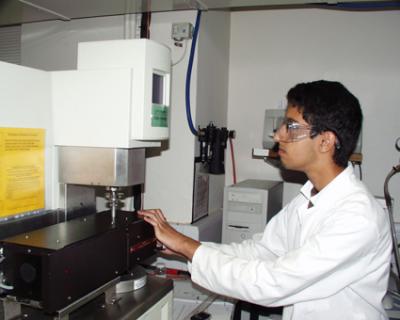 Ali Hammad working on the group's ARES rheometer
Every year the Polymer Fluids Group takes part in the Nuffield Science Bursary Scheme . The scheme allows sixth form students to gain experience of research in an academic or industrial laboratory for approximatley one month during the summer vacation. The regonal co-ordinator for the Cambridge area is ExSciTe. This year the student working with the Polymer Fluids Group was Ali Hammad. Ali was studying the rheology of violin rosin. This was a collaborative project with Professor Woodhouse of the Department of Engineering.
High Tea, 8th August
The Polymer Fluids Group, partners and family members in Prof. Mackley's garden
Professor Mackley held his annual high tea for the Polymer Fluids Group, partners, family and friends. Those able to attend enjoyed various delights including tea with scones and cream and fruit punch with Pims.
Polymer Processing Society (PPS) 2006 Annual Meeting, Yamagata, Japan, 3rd - 5th July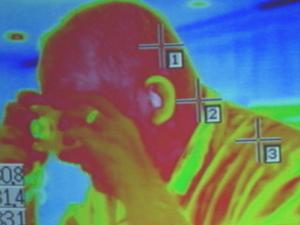 Infra Red image of BSR president taking photo of himself
This year's twenty-second annual PPS meeting was held in Yamagata on 3 - 5 July 2006 where the meeting was attended by some five hundred delegates of which four came from the UK. The low attendance is a measure of changing times. Asia now leads in both polymer manufacture and processing; the UK has small pockets of academic processing ability but UK manufacturing appears to have lost its appetite to be involved in polymer processing innovation or technology development. New areas of polymer processing technology now involve biomass based polymers such as polylactic acid and increasingly opto electronic devices figure in process development. There was also a significant number of papers on filled systems and nano clay suspensions figured highly. In Japan, Toyota are a strong driving force for technological innovation and a plenary lecture at the meeting told us how Toyota is planning "today for tomorrow".
There was a lot of rheological content in the meeting and perhaps more British rheologists and polymer processors might be persuaded to attend the next PPS Meeting in Salvador, Brazil, 27 - 31 May 2007.
Prof. M.R. Mackley
Royal Society Summer Exhibition, London, 3rd - 6th July
David Hassell attended the Summer Exhibition held at the Royal Society in London from the 3rd-6th July 2006. David presented work undertaken as part of the interdisciplinary µPP2 project along with members of the collaboration from other Universities. 4000 people were expected to attend the event, ranging from school children, teachers and members of the general public to fellows of the Royal Society and MP's. Pictured is part of the team with the exhibition at one of the two formal evening events.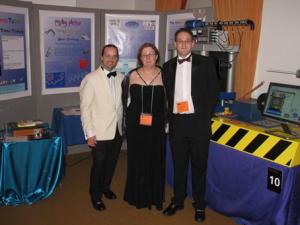 From right, David Hassell (Cambridge), Christine Fernyhough (Sheffield) and John Embery (Leeds).
New Developments in Micro Capillary Films: the Flow Disc Reactor
Recent experiments carried out within the Polymer Fluids Group in collaboration with Prof. Steven Ley of the Department of Chemistry, University of Cambridge, investigated the residence time performance of a novel microcapillary flow disc. The disc was prepared from a plastic microcapillary film (MCF), carrying an array of 19 microchannels with a mean hydraulic diameter of 200 µm. The fluidic pathway length of the 19 parallel channels inside the disc was 15 m. Both the disc and the film have been developed within the Polymer Fluids Group.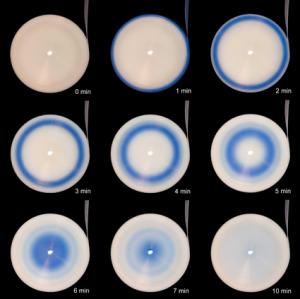 Flow of blue dye through a microcapillary flow disc containing an array of 19 microcapillaries (mean capillary diameter: 200 µm, fluidic pathway length: 15 m), 1 ml dye pulse injected into a constant solvent stream at 1 ml/min, pictures taken at time of injection and after 1, 2, 3, 4, 5, 6, 7 and 10 minutes.
A slug of blue tracer dye was injected into a constant stream of methanol flowing along the channels of the microcapillary flow disc. The continuous flow of 1 ml/min was provided by an HPLC pump. The fluid entered the disc radially at the circumference and exited at the centre. A series of 9 pictures were taken while the dye pulse travelled through the disc. These are shown in the figure below.
Christian Hornung
3rd Annual European Rheology Conference, Hersonisos, Crete, Greece , 27th - 29th April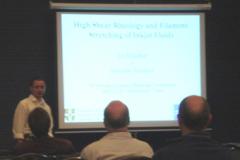 Tri Tuladhar (left) and David Hassell (right) presenting their work during the "Rheometry and beyond: advanced experimental methods" and "Non-Newtonian fluid mechanics, turbulence and processing" sessions.
From the 27th to the 29th of April 2006, David Hassell, Malcolm Mackley and Tri Tuladhar of the Polymer Fluids group attended the Annual European Rheology Conference (AERC) held in Hersonisos, Crete. This high-profile conference brought together eminent rheologists from Europe, America and Asia. David and Tri gave a talks entitled "Stress Build-up within polyethylene melts in cross-slot flow" and "High shear rheology and filament stretching of inkjet fluids" respectively while Malcolm chaired a morning session on "Viscoplasticity, granular flows and jamming".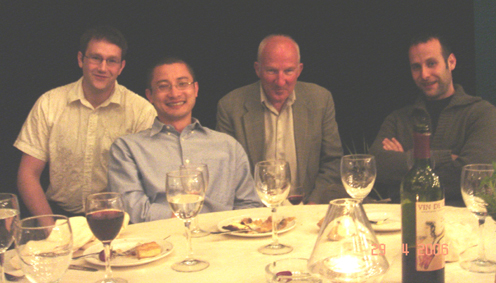 Past and present members of the Polymer Fluids Group at the AERC dinner. From left,
David, Tri, Malcolm and past member Rudy Valette, currently at CEMEF in France.
µPP2 Spring Meeting: Balliol College, Oxford, 27th - 28th March 
| | |
| --- | --- |
| | |
| David giving his presentation | Moises at the poster session |
Members of the Polymer Fluids Group attended the µPP2 Spring Meeting held at Balliol College, Oxford. Dr David Hassell presented work describing the effect of increasing viscoelasticity on the stress field in Polymer melts using three polyethylenes. Two different flows were created in an MPR using slit inserts: a contraction-expansion flow using a slit geometry and extensional flow using a cross-slot geometry. In both flows and at the same flowrates, an increase in the visoelasticity of the polymer led to increasing stress field asymmetry between the inlet and outlet. At high viscoelasticity the formation of stress fangs and upstream recirculation zones was observed for the contraction-expansion flow and highly localized fringes were observed at the centre line for extensional flow. Comparisons of principle stress difference for both geometries were then made with simulations performed using the multi-mode POM-POM equation where for certain situations good agreement was found.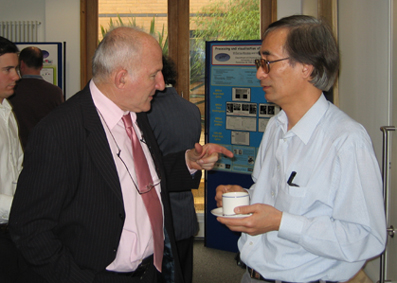 Prof. Mackley talking to Dr Choon Chai at the poster session