Christmas Social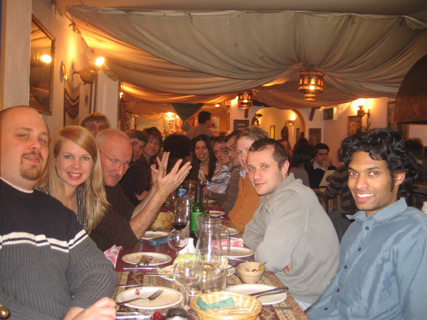 The group at the restaurant
The Polymer Fluids Group held its Christmas social on Monday 17th December. The event was organised by Dora who booked us a table at an Algerian restaurant. A good time was had by all.
Merry Christmas and a Happy New Year to all our friends
New Group Member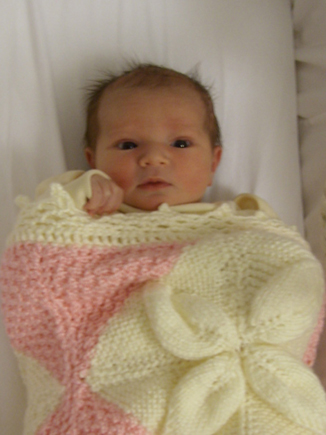 New PFG member Isabel when she was a couple of days old.
Gabriela has given birth to her daughter, Isabel. She weighed 3.8 kg at birth. We wish Isabel, Gabriela and Christoph all the best.
CNT@Cambridge 2007 Symposium:
A mini-symposium on the science and application of Carbon Nanotubes (CNTs)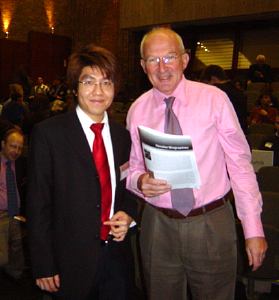 Prof. Mackley and Anson Ma, Chair of the Symposium organising committee, at the meeting.
Anson Ma, one of the groups PhD students, helped to organised mini symposium on Carbon Nanotubes (CNTs). Over 150 delegates attended the meeting in Cambridge on Friday 30 November. CNTs are cylinders of rolled graphene sheets which can potentially be used in high-performance nanocomposites, nano-electronic devices and biological applications. At the symposium, Prof. Malcolm Mackley addressed a keynote speech on "The microstructure and rheology of carbon nanotube (CNT) suspensions". The event was initiated by a group of students and post-doctoral researchers who share the same vision: to provide a platform for CNT researchers to exchange ideas and for industry delegates to interact with leading CNT scientists in Europe.
The highlights of the program were keynote presentations by 11 distinguished speakers sharing their research findings on the synthesis, physical properties, processing, electronic and biological applications of CNTs. Besides Prof. Malcolm Mackley, other speakers from Cambridge include Prof. Alan Windle (Materials Science), Prof. Eugene Terentjev (Cavendish), Prof. Bill Milne (Engineering), Prof. Gehan Amaratunga (Engineering), Dr. James Elliot (Materials Science) and Dr. Andrea Ferrari (Engineering). External speakers include Prof. Francisco Chinesta from ENSAM (France), Prof. Kostas Kostarelos from the University of London (England), Prof. Christian Bailly from Université Catholique de Louvain (Belgium) and Mr. Kshitij Singh from the Institute of Nanotechnology (Scotland).
The symposium was generously sponsored by Churchill College, Nanoholdings LLC, ENSAM, AIXTRON and SonicBio, with participation from both academic journals (Nature and Science) and the industry (Bayer MaterialScience, Oxford Instruments, Nanocyl, Nokia, Siemens, Thomas Swan). The proceedings of the symposium will be published by Springer and will appear as a special issue of the International Journal of Material Forming.
| | |
| --- | --- |
| | |
| Prof. Malcolm Mackley addressing his keynote speech entitled "The microstructure and rheology of carbon nanotube (CNT) suspensions" to the audience of the symposium. | Dr Daryl Boudreaux from NanoHoldings LLC - a USA-based venture capital company - asking a question during the Q&A session. Dr Damien Vadillo from the PFG is behind him in the audience. |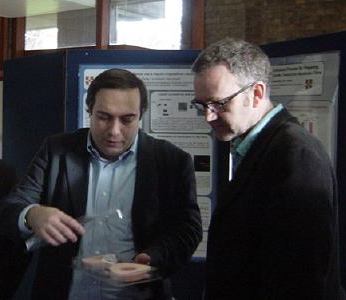 The chief editor of Nature Nanotechnology, Dr. Peter Rodgers (right), talking to Dr Andrea Ferrari from the Centre of Advanced Photonics and Electronics (CAPE), Cambridge.
IChemE awards success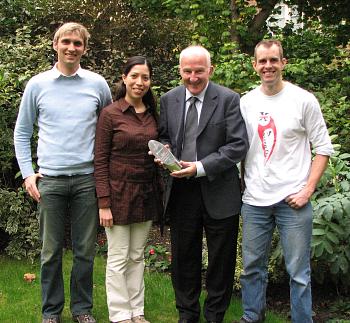 Christian Hornung, Dora Medina, Professor Mackley (holding the trophy) and Dr Bart Hallmark
Members of the group enjoyed success at the IChemE Gala Awards Dinner on the 25th October 2007 at the Hilton Metropole, London. Professor Mackley, Dr Bart Hallmark, Christian Hornung and Dora Medina were highly commended in the Sellafield Ltd Award for Engineering Excellence.
The annual IChemE Awards programme aims to recognise and promote organizations which make an outstanding contribution to safety, the environment, sustainable development and other aspects of the chemical and bioprocess industries. Malcolm, Bart, Christian and Dora were nominated for the Sellafield Ltd Award for Engineering Excellence. This award puts particular stress on elegant, major chemical engineering solutions integrating social responsibility and lifetime value. The team has invented a simple and exciting plastic processing technique that can be retrofitted to existing polymer extrusion lines. The novel extrudate, Microcapillary Film (MCF), is a flat, flexible, plastic film containing an array of microcapillaries that run along its entire length. The precision-engineered capillaries can be tailored to be effectively uniform and can range between 3 microns and 3 millimetres in diameter depending on processing conditions and polymer choice. Potential application areas for MCFs include using them as low-cost plastic heat exchangers, as low-cost, disposable, chemical microreactors for pharmaceutical and fine chemical synthesis, as a functional component in pressure sensing devices and as a peristaltic pump membrane.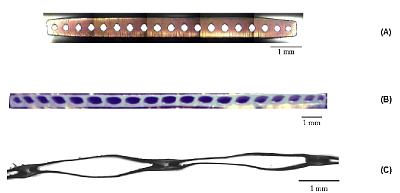 Photomicrographs of (A) standard voidage MCF (B) high voidage MCF and
(C) ultra high voidage MCF. The polymer is linear low-density polyethylene (LLDPE).
µPP2 Autumn Meeting:
Robinson College, Cambridge, 17th - 19th September 2007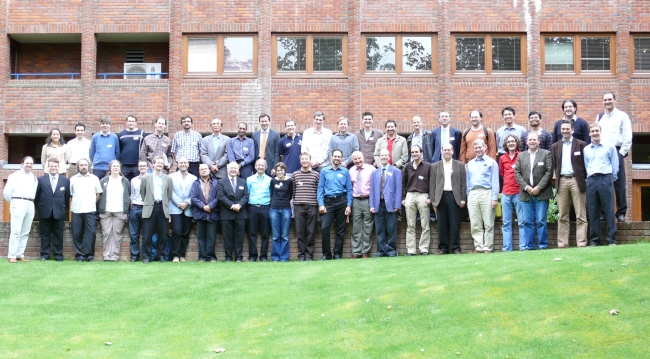 The members of the µPP2 consortium at Robinson College
The Polymer Fluids Group hosted the autumn meeting of the Microscale Polymer Processing 2 (µPP2) consortium. At these meetings the latest developments within the consortium are discussed and researchers have the opportunity to present their latest research. Dr David Hassell and Dr Tim Lord of the Polymer Fluids Group gave presentations on their work:
Toolbox: An overview of experimental progress at Cambridge - Dr David Hassell
David gave an outline of the single phase work carried out at Cambridge using the Multi-pass rheometer. Subjects included polymer melt flow in sharp and curved slit geometries, cross-slot flow of both poly-PS and mono-PS materials and polymer instabilities.
Visualisation of cross-linked PS bead/PS system - Dr Tim Lord
Tim has been investigating two phase blends with particular emphasis on a PS/cross-linked PS system in order to resolve how the addition of filler influences processing properties. Complications involved with blending process were explored in detail as well as a thorough study of an interesting cavitation effect which occurs post processing. Further, the results of an investigation into the orientation of glass fibres in a PP matrix during processing, optically resolved in the Multi-pass Rheometer, were presented. Both "contraction-expansion" and "cross-slot" geometric profiles were used in order to observe orientation during entry and exit flow and elongational flow respectively. Great interest was shown in this work by the industrial researchers involved with the project.
Both presentations were warmly received by the audience.
Getting EU-nthusiastic about research ...
A report on the 2007 Marie Curie Summer School in Materials Science, 20-29 August 2007, Estremoz, Portugal
The Maltezas Convent facility of Évora University
Lino Scelsi attended the Marie Curie Summer School held in Portugal. This is his report.
 On 20-29 Aug 2007, thirty PhD students and researchers from all over Europe (and beyond) participated to the "Knowledge Based Materials Summer School" in Estremoz, Portugal. The mix of scientists ranged from geologist to zoologist, with a common passion: materials science. Stimulating talks were alternated to group activities dealing with first-hand material testing, study-trips, poster sessions and workshops on proposal writing and career planning. The quietness of the monastery in which the course took place contributed to the team-building, as testified by the lively discussions (needless to say, mainly about innovative materials) that never really stopped, and even the production of a video. The intellectual exchange, the networking and the friendships will leave a life-long trace in the mind of all the young researchers.
Nuffield Science Bursary Scheme 2007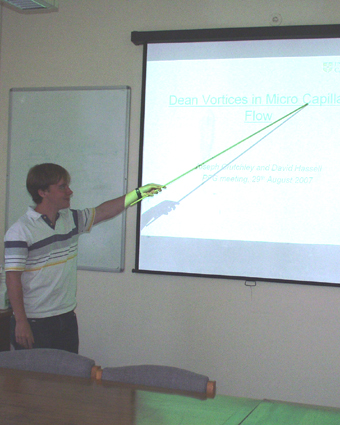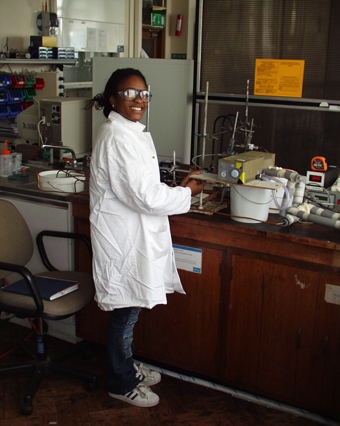 Joe presenting his data to the group (left) and Seyi working in the lab (right).
As in previous years, the Polymer Fluids Group took part in the Nuffield Science Bursary Scheme . The scheme allows sixth form students to gain experience of research in an academic or industrial laboratory for approximatley one month during the summer vacation. The regonal co-ordinator for the Cambridge area is ExSciTe. This year we had two students: Joseph Crutchley and Oluwaseyi Daniyan. Joe studied the formation of Dean vortices in micro capillary films, supervised by Dr David Hassel. Seyi worked with Dr Bart Hallmark on the heat transfer in micro capillary film heat exchangers.
Bart's Barbecue
Cambridge - 23rd July 2007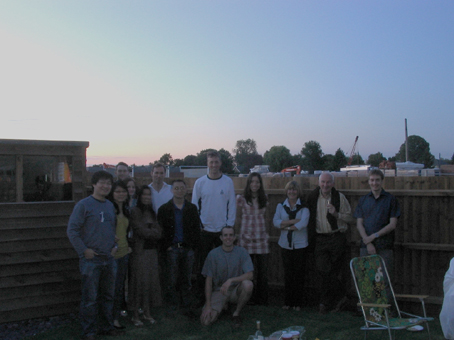 Members of the Polymer Fluids Group and partners at Bart's barbecue.
Bart is kneeling at the front with Kris behind him.
To celebrate moving into his new house, Bart Hallmark held a barbecue for members of the Polymer Fluids Group. Also present was Kris Coventry, a former PhD student with the group who had returned to Cambridge from his home in Australia for his graduation.
Kris is now a Research Fellow with the Polymer Science Group of the Department of Chemical and Biomolecular Engineering, University of Melbourne. Part of his research is focused on the rheology of core cross-linked star polymer (CCS polymers) and during his stay he was able to give a presentation to the group on this topic.
He has investigated the rheology of CCS polymers with a range of different architectures in solution under different flow conditions. The polymer solutions have been shown to give an almost Newtonian response up to relatively high molecular weights and concentrations. At very high concentrations and molecular weights, the response becomes more polymeric in its nature. Kris hopes that this relatively preliminary work will provide some insight into the potential application of these polymers, which could include film forming components of paint, rheology modifiers for plastics processing and drug delivery agents among many possibilities.
µPP2 Spring Meeting:
Ranmoor Hall, Sheffield, 27th - 29th March 2007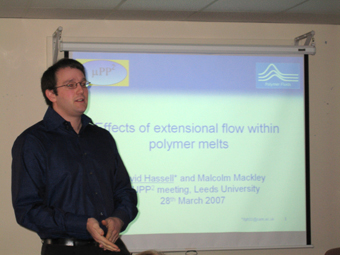 David (left) Lino (right) and Tim (below) giving their presentations at the meeting.
Professor Mackley, David Hassell, Lino Scelsi, Tim Lord and Simon Butler attended the Spring Meeting of the Microscale Polymer Processing 2 (µPP2) consortium, held at Ranmoor Hall, Sheffield. David, Lino and Tim gave presentations on their work entitled:
Effects of extensional flow within polymer melts - Dr David Hassell
Flow incduced crystallisation of PE and PP melts in a multi pass rheometer - Lino Scelsi
Visualisation of cross linked PS bead/PS system using the MPR - Dr Tim Lord
All of the presentations were warmly received by the audience.
Polymer Fluids Group Winter Gathering
Cambridge, 13th March 2007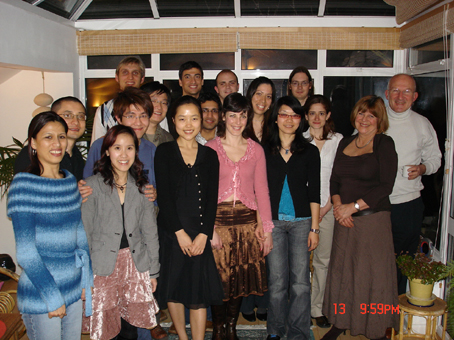 The Polymer Fluids Group and partners.
Professor Mackley held a social gathering for the group and their partners at his home in Cambridge. The group would like to thank Margaret and Malcolm for their hospitality and the excellent food and drink.
Statoil
Trondheim, Norway, January 2007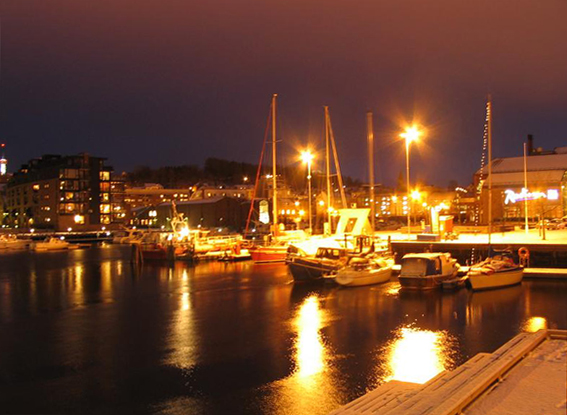 Trondheim harbour, early evening.
Professor Malcolm Mackley and Dr Bart Hallmark recently visited Dr Trond Bustnes. Trond is a former PhD student and Postdoctoral researcher with the Polymer Fluids Group. He now works for Statoil in Trondheim, Norway, where he is investigating drag reduction in gas pipelines. The objective of the visit was to discuss the reduction of drag by the suppression of turbulence in high-density gas flows, such as that used in the gas pipeline between Norway and the UK. This supplies the UK with 20 percent of its natural gas.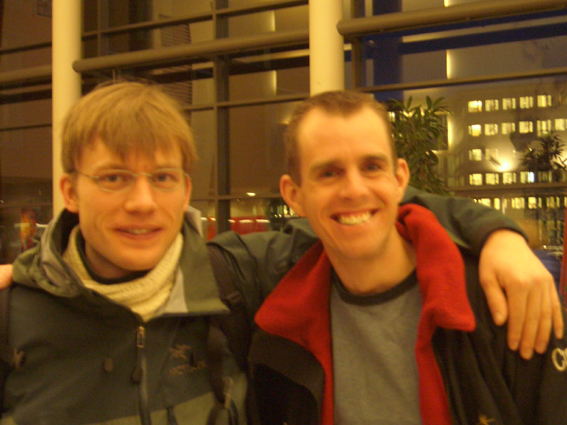 Trond and Bart at Statoil.