BSR Mid-winter Meeting Competition
The British Society of Rheology ran a competition to win an all expenses paid trip to their mid-winter meeting at the University of Nottingham Sutton Bonington Campus in Loughborough. To be eligible for the prize, students had to explain in fewer than 200 words how they had made good use of a rheometer. Kat Yearsley successfully won the competition by describing her use of a modified Couette cell (pictured) to measure the dielectric properties of carbon black and carbon nanotube suspensions under shear.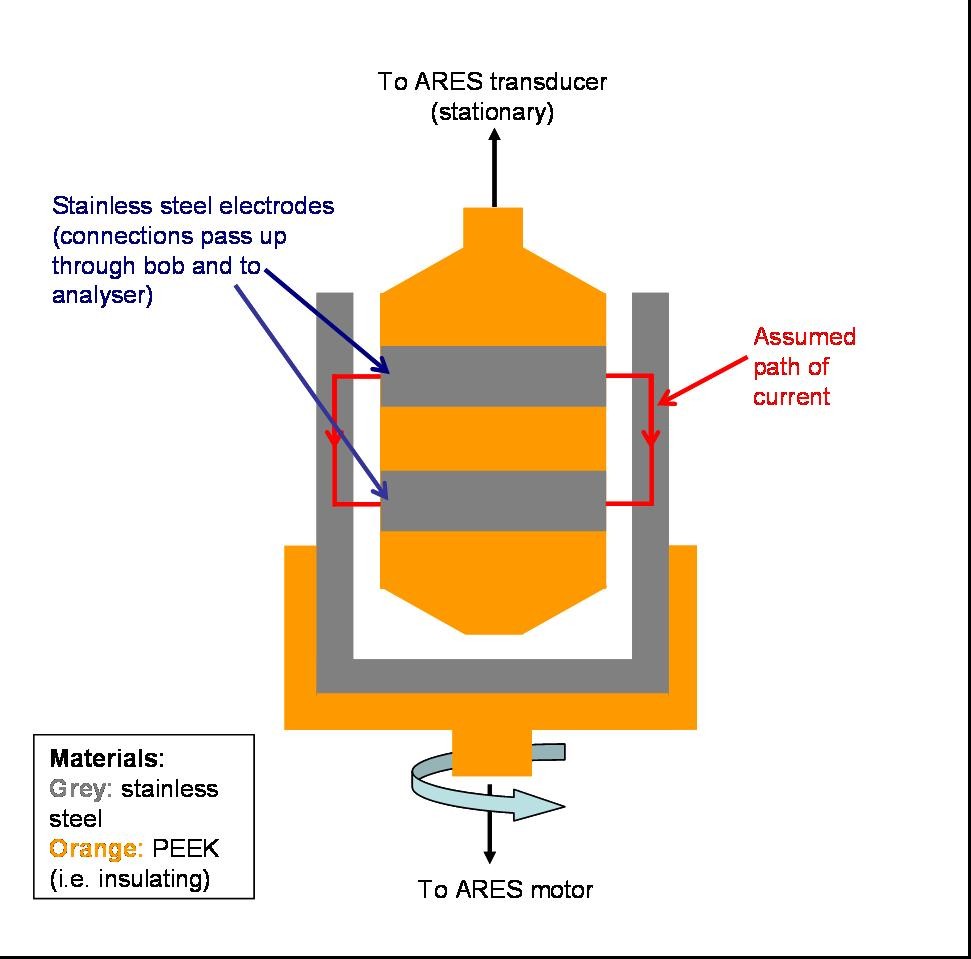 Modified Couette cell for ARES rheometer as designed by G Meeten of Schlumberger Cambridge Research. Used to measure conductivity and rheology of liquid samples.
Society of Rheology Meeting, Santa Fe, USA, 25th - 28th October
Damien wins the poster prize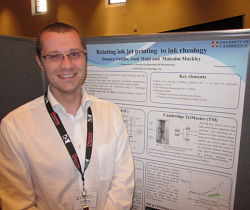 Dr Damien Vadillo with his winning poster at the conference
Damien Vadillo won the best poster competition at the recent Annual Society of Rheology Meeting. His poster "Jetting of low viscosity, low elasticity viscoelasticty polymer solutions" won against strong USA competition from 95 other posters. The Society of Rheology has a annual meeting and this year 506 delegates including Damien Vadillo, Kat Yearsley and Malcolm Mackley attended. The meeting was memorable, for high quality scientific presentations and was located in a fascinating part of the USA.
Nuffield Science Bursary Scheme 2010
| | |
| --- | --- |
| | Photo: Alistair operating the ARES rheometer |
The Polymer Fluids Group took part in the Nuffield Science Bursary Scheme again this year. The scheme allows sixth form students to gain experience of research in an academic or industrial laboratory for approximatley one month during the summer vacation. The regonal co-ordinator for the Cambridge area is STEM Team Cambridgeshire. This year Alistair Glaves worked with Dr Simon Butler to investigate the rheology of thickening agents used in the treatment of dysphagia. He used the ARES and Bohlin rheomters to investigate the influence of time on the rheological behaviour of the fluids. 
Final party at Chesterton Hall Crescent, 16th April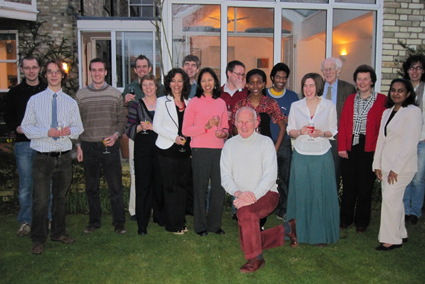 Members of the Polymer Fluids Group and friends at the party
Professor Mackley and his wife held a final group social at his home in Chesterton Hall Crescent before moving out. As usual an excellent buffet supper and drinks were provided by Margaret and Malcolm. The group would like to thank them for their hospitality and wish them all the best in their new home.
AERC 2010, 7th - 9th April Göteborg, Sweden
Amit, Kat, Malcolm and Damien at the conference
Over 400 rheologists descended on Göteborg, Sweden for the 6th Annual European Rheology Conference in early April 2010. A wide variety of topics were discussed from food and bio-rheology to interfacial rheology, emulsions and foams.
The Polymer Fluids group was well represented, with both Amit Mulji and Prof. Malcolm Mackley giving presentations entitled "High Frequency Rheology and Processing of Inkjet Fluids" and "The Rheology of Swallowing", respectively. Kat Yearsley also exhibited a poster summarising her work comparing the microstructure and rheology of carbon black and carbon nanotube suspensions.