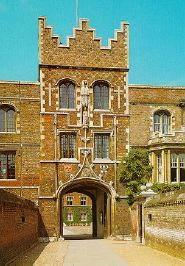 Jesus College, Cambridge, UK
6-8 April 1998
'Aftermath'
The formation of fouling deposits within food process plant is a severe problem which limits plant operation and product safety. With the ever increasing importance of hygiene in food safety, it is vital to understand the processes involved in both fouling and cleaning. This knowledge is essential for the design, operation and control of hygienic food plant with minimal environmental impact.
These topics were discussed at an international meeting held in Cambridge on April 6-8 1998. Over eighty delegates from Europe, USA and NZ attended. 40 papers were presented, either orally or as posters under the following five themes
Fouling - General - Deposition of unwanted deposits on hard surfaces
Membranes - Fouling and cleaning in membrane systems
Cleaning - General - Removal of process material deposits from surfaces
Cleaning - Hygiene - Removal of biological films and spores from surfaces
Systems - Application of knowledge of fouling and cleaning mechanisms to the design, operation and cleaning of process equipment
The conference proceedings have bee published by the European Commission under the COST-Action-93 programme. Copies of the Proceedings are available from Ian Wilson at the address below (cost = Post + Packaging). In addition, a selection of papers presented at the conference were published in the June 1999 issue of Transactions of the Institution of Chemical Engineers, Part C: Food and Bioproducts Processing. Feedback suggested that most delegates would like to see a similar conference in 2002, so watch this space!
The meeting was supported by the SCI Food Engineering Group , the Food and Drink Subject Group of the IChemE, DiverseyLever, COST-Action-93, and the Departments of Chemical Engineering at the Universities of Cambridge and Birmingham
Technical Committee
MR Bird ....... University of Bath, UK
C Grant ........ N. Carolina State University, USA
A Graßhoff .... Federal Dairy Research Centre, Kiel, Germany
PJ Fryer ....... University of Birmingham, UK
APM Hasting . Unilever Research, UK
W Spieß ....... Federal Nutrition Research Centre, Karlsruhe, Germany
H Visser ....... formerly Unilever/NIZO, Netherlands
DI Wilson ..... University of Cambridge, UK
Further Information
Enquiries about the conference, or requests for further information should be addressed to Dr. Ian Wilson at the following address
Post
Department of Chemical Engineering
Pembroke Street
Cambridge
CB2 3RA
UK
Telephone UK + 1223 334791
FAX UK + 1223 334796
E-mail ian_wilson@cheng.cam.ac.uk